The effort to buy the mums at the Turning Point farm their own land is pushing ever forward. Though we have not yet raised all the needed funds, Turning Point have received enough pledges and donations to get the ball rolling on acquiring the land and so last Saturday Pastor and Kariuki travelled up to Kinangop to purchase 6 acres of land for the mums. The mums have been scouring the area choosing a spot for their own farm, some have found neighbouring plots and will continue to live close together, others have branched a bit further from the others. All the plots are within the same area and the kids are likely to still attend the same school.
So to date, 6 of the 7 acres have been bought, the 7th mum had some trouble with the previous owner of the land she chose and is continuing her search. What remains is to build homes on each plot and for the mums to start preparing their new land for planting.
Here on Globalgiving we have nearly reached the halfway mark to raising the funds for one of those mum's farms. Thank you to all who have donated through Globalgiving and to all those churches who have been working hard to raise funds for each of the mums at the farm. These are very exciting times for the families and for Turning Point, thank you for sharing in that with us!
Links:
This first term of the year in Kenya has seen the Transition class fill up to 36 children, around 12 of whom were sent from our satellite project in another area of Kibera. Others have come to the project from the streets or from the surrounding area, hearing about the project through word of mouth. These children have benefited from having a team of three teachers working with them. New teacher Philip has shown himself to be a dedicated, caring and proficient teacher, the boys in the class are particularly enjoying having a male teacher around.
Having a third teacher has enabled teacher Margaret to spend more focused time with six students who we found to have particular learning difficulties. Margaret has been assisted by some volunteer primary school teachers from the UK and South Africa who have given her some tips and fresh ideas to help the kids grasp the new concepts and the kids are really enjoying it!
Edwin is one such kid, at 14 years old he has repeated the first few years of primary school several times and is far behind his age-mates. Frustrated, he refused to go back to school this year. A little investigation showed he has dyslexia, something that is rarely identified in government schools working with few resources. He is now working hard to catch up and has made huge progress this first term under Margaret's care. A few creative learning techniques have made a great difference to his development.
Links: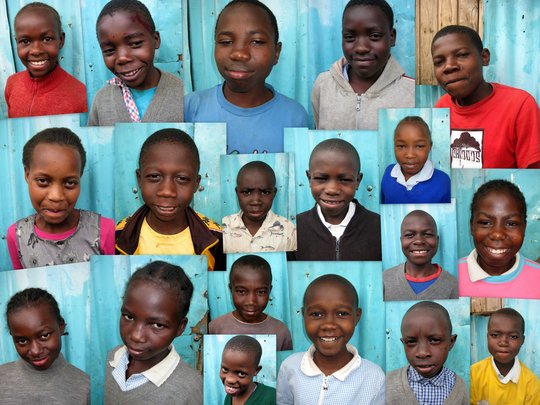 This January 19 children graduated out of Transition class to join government primary schools, these children have all attended primary school in the past but had to drop out due to lack of funds. A further 10 children moved on to primary school from our preparation class for those who have never been to school before. We had several children visit the project in the first week of term before they started school to proudly show off their new school uniform. This is a great encouragement to our project teachers who are launching into a new year ready to receive new children into their classrooms.
We are currently accepting a new intake of children into the prep and transition classes for the coming year. Soon the compound will be filled again with the sound of kids chanting their vowels and times-tables and the rhyme they shout whenever a kid answers a question correctly 'For you, for you, you are the best!'
Links:
WARNING: Javascript is currently disabled or is not available in your browser. GlobalGiving makes extensive use of Javascript and will not function properly with Javascript disabled.
Please enable Javascript
and refresh this page.