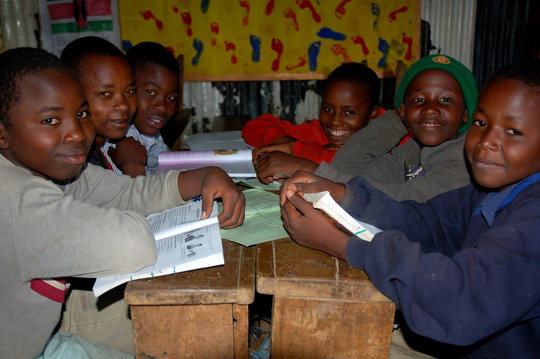 We call our specialist educational classes for street kids Transition Class. This progress report was written by Margaret, one of the teachers who run run this class.
Transition Class Report In transition class this term we have 20 pupils, nine girls and eleven boys. Ten of them came from our the Turning Point satellite project in Kianda. In January this year, 17 children went back to school, making way for a second intake.
This brought the number to 32 pupils, 20 of these children were ready to start back at school at the beginning of the second term, so they graduated on to government schools at this time to reduce the class size in transition.
Currently, seven of the children in transition class are from the streets. The children in transition class were not in school for different reasons. Some, because the parents could not afford the school uniform and other upkeep. Other parents were drunkards who did not care if their child attended school so the children dropped out.
Challenges
It has been a challenge this year with new pupils joining in the middle of the year, some of whom had been out of school for over a year. It is a challenge to help the new pupils catch up with the syllabus without dragging the others who were in class from the beginning of the year. Despite the challenges, God gives me enough grace to endure everything.
Success
Through the transition class the children gain self-worth that had been lost before they joined us. They also make friends who are always available to talk with them.
Progress
I am so happy that most of the children open up, get to know more about education and are so willing to study and proper. As a teacher, I am so proud to hear the progress of children from transition class. It gives me a bigger heart to accommodate more children and press on in the work that the Lord has laid in my heart for the good of the children.
Case Study: Charles Rubia
Charles is 14 years old, he has two brothers and lives with his mother. His father deserted them due to alcoholism. His mother earns money by washing clothes. Charles had reached class seven in school but he dropped out because at times he would go to bed without food so he chose the streets as a better option.
He is so happy at Turning Point because he knows that he can't go without a meal. During the week, he is sure of getting two meals a day. He is also happy for the education he is getting in transition class for he knows that one day he will be a better person. He wants to be a lawyer so that he can deal with parents who neglect their families. He doesn't want what happened to him to happen to someone else.
Links: