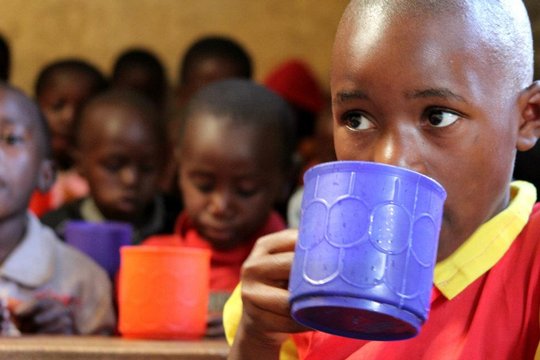 'The feeding programme at Turning Point is very important for the children that come here. For lots of them they only get the breakfast and lunch we give them. When they go home they don't eat. So they like to come and eat here. We give them different meals. In the morning everyone gets a mandazi. Then the school children go to school and they get lunch at school. The children in the centre get lunch here. On Monday and Thursday we give them beans and rice. On Tuesday and Friday we feed them ugali and ndengu and on Wednesdays they get githeri (a mix of beans and maize) and cabbage.
I decided we should feed the children different meals everyday because I realised that they would get bored of having the same meal everyday and also they need to have different foods to get the different nutrients.
Then the children can go home with and they might not eat until the next day but they have had a healthy meal and leave with a full stomach so they don't have to beg or steal to get food.'
It's a tense time as Ombisa waits for the results of his entrance exam and interview to study nursing at Nairobi Hospital. He reports that the tests weren't easy and tested a mixture of academic ability as well as personal skills. However, he is hopeful that the outcome will be positive and he will be able to commence his studies soon. In the meantime, Ombisa can be found in the Turning Point kitchen taking a sneaky cup of chai and a mandazi in the kitchen while making the cooks laugh. Or he'll be out in the playground leading circle games with the younger children. Failing that, you can find him rehearsing rap songs that he's written. He doesn't keep idle! We are confident that he will make a good nurse and anticipating a positive outcome from his interview. We'll keep you updated!
It seems that food prices in Kenya are continuing to rise relentlessly, with the rains starting late Kenya's cows were struggling to produce enough milk and so the prices have risen and many shops have rationed how many packets of milk each customer could buy. Now butter and other dairy products is very scarce.
When prices of such basic products as milk rise, its hits families in Kibera hard. For many a nice sweet milky cup of tea in the morning is all they will take for breakfast, perhaps all they will consume until the evening meal. The rising prices also affect our project as we provide milky tea for around 100 kids in Kibera every morning.
Yet our work is continuing, we have taken a short break for the school holidays but from next week we will open our doors once again and kids aged between 4 and 16 years will recieve a hot and healthy breakfast and lunch each day. In the case of young Nick who is just 5 years old, the meals he gets at Turning Point each is all the food he eats each day. His single mother struggles to provide him with an evening meal and so he comes tired and hungry to the project each morning and can't wait for breakfast time at 10am.
WARNING: Javascript is currently disabled or is not available in your browser. GlobalGiving makes extensive use of Javascript and will not function properly with Javascript disabled.
Please enable Javascript
and refresh this page.