Wambua is a typical example of one of the children benefitting from our feeding programme. This is how he turned up Turning Point, and how it's impacted his life:
Wambua is 8 years old and the fourth born out of six children. His father separated from the mother and in the process deserted his children. His mother does not work but has since remarried. Although the step father sometimes brings food home, occasionally he disappears for days at a time and the children are forced to go hungry. Wambua's eldest sister dropped out of school and married. She never completed her Kenya Certificate of Primary Education. However, the second and third born children are both in school with Turning Point's support and are benefitting from the school Feeding Programme. Wambua also receives regular meals at the Turning Point centre where he comes to attend our Prep classes. As well as playing football, Wambua likes learning with the other children at Turning Point Prep class and his favourite subject is Kiswahili. When he is older he would like to be a doctor. Turning Point's Feeding Programme is vital for keeping children like Wambua fed, healthy and in class.
With your help, we are able to feed and support many more children like Wambua.
Social Worker Gladys and I had the great pleasure of taking Ombisa for his enrollment at the Nairobi Hospital Nursing School on Sunday. We had arranged to meet him at 10:15 but he had been waiting for us since 9am! He was so excited and hadn't slept all night.
After paying up the school fees and collecting a bunch of text books so heavy the bag made you walk at an angle, we were welcomed by the teaching team and given an introduction to the school. Its a top class nursing school in a
private hospital, a past student gave her story of training in the school and working in the Nairobi Hospital as a theatre nurse, in 2000 when the UK brought nurses from abroad to work in UK hospitals she went and worked in the UK for some years before returning to work in Nairobi. It's clear that the qualifications Ombisa will get at this school could take him anywhere in the world. But its going to be a tough two years with classes starting at 7:30am everyday and strict discipline. The Principle informed us that if students are not up to scratch after the first three months of training, they will not be allowed to continue with the course.
After the introduction we found his room and collected his uniform, Ombisa is sharing a room with another trainee nurse who he met during the interview stage so he was happy to find a friend! We stayed to have lunch together and gave Ombisa his first lesson: using a knife and fork, he's now one step closer to becoming a surgeon! Ombisa certainly has a lot to adjust to in these first few weeks of school, we assured him that we were just a phone-call away and that we would be praying for him. Please join us in prayer for Ombisa at this overwhelming time as he starts class, makes friends and gets used to the routine and over the coming months that he can work hard and excel in class and show his teachers he is a worthy candidate to continue beyond the first three months.
Finally, thank you so much to those who have made it possible for Ombisa to start nursing school, it was amazing to be there with him on his first day, to see his excitement and to imagine with him a future that looks full of promise.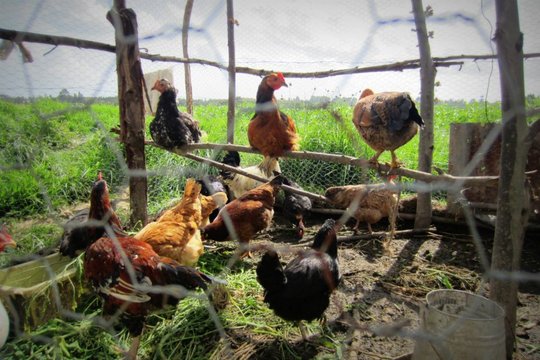 The second lot of mums are now well settled in at the farm and are beginning to see the fruits of their hard labour; it's harvest time. For potatoes at least! There are sack loads of them. Some are for eating, others for selling, others being stored to be replanted for the next harvest.
In addition to working the community farm, the mums also have their own land to experiment and put into practice all they've learnt on the community farm. It's interesting to observe their choices of what they do with their own land. Some are planting just one crop, others have chosen to plant different crops. Some have hired local farmers to help them work their land, others are farming it themselves. One mum has even got chickens and rabbits for eggs, meat and to sell!
It's a good time of year for the mums and they are very happy at the farm. It's always an encouraging time to reap the benefits of much hard labour and disappointment of failed crops over the previous months. They deserve the joy of harvesting the fruit of the hard work they have put in.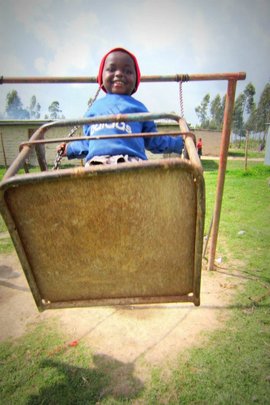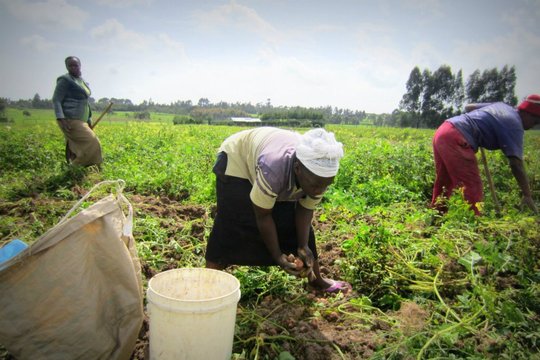 WARNING: Javascript is currently disabled or is not available in your browser. GlobalGiving makes extensive use of Javascript and will not function properly with Javascript disabled.
Please enable Javascript
and refresh this page.