It's a happy new year at the Turning Point Farm, on December 1st the mums progressed from stage 1 to stage 2, taking one step closer to their dream of land ownership and independence. While stage one involved more communal living and learning farming skills, stage two sees the mums living more independently at putting their new skills to the test on their own 1 acre plots of land. This progression involves a physical move to a new, slightly bigger home which the kids are extremely excited about.
Another change at the farm sees the mums gain a new Farm Manager. Florence has been a teacher with Turning Point for several years but has now moved with her kids to the Turning Point Farm to oversee the personal and spiritual development of the mums. Florence has her own inspiring story of perseverance and progress as a single-mum raising her kids in Kibera and we believe she will be a loving and encouraging role-model and guide to the mums at the farm.
Ombisa has been working really hard since September on his nursing course and his work is paying off, every two weeks the class has Continuous Assessment Tests (C.A.T.s) to monitor their progress and Ombisa has been coming out consistently top of his class! This is excellent news because these first few months are considered a probation period for the new students and if they do not attain a certain grade they will not be allowed to continue with the training but it seems that Ombisa will not need to worry.
The class will only be taking a very short break over Christmas to rest and then they will be straight back to the books. Despite the gruelling schedule Ombisa is enjoying himself and has made good friends with fellow students. This is certainly the experience and opportunity of a lifetime for Ombisa and he is not taking it for granted. Thank you to all those who have made this possible for Ombisa, it's really exciting to watch him grow and flourish.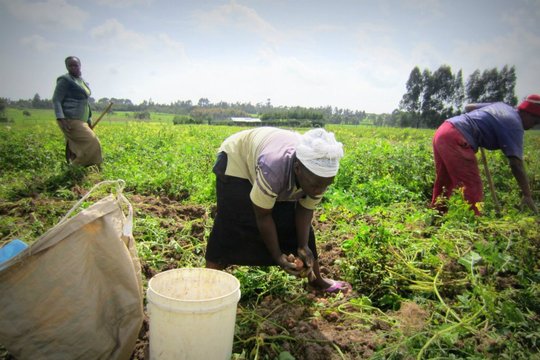 Anastasia moved to the Turning Point farm in Kinangop last December with her four children: her eldest is 9 years and in class one, her second-born, 8 years, and her third-born, 6 years, are both in pre-unit, while her youngest, 4 years, stays with her on the farm during the days.
Before moving to Kinangop, Anastasia had lived in Kibera for 5 years and life was a constant struggle. She was unable to find the work she had hoped to get when she moved to the slum and as a result she and her kids would often be forced to sleep hungry. She did not enjoy being idle, and spending days without work, she struggled to see the purpose to her life.
Although life in Kinangop is not always easy – the farm work is physically very tough – she is happy to have made the move, saying 'there is work here. There is food here. There is a good life here.'
The farm has opened up a whole new life for Anastasia and her children, a world away from the harsh realities of Kibera. We're excited to be part of that.
Links:
WARNING: Javascript is currently disabled or is not available in your browser. GlobalGiving makes extensive use of Javascript and will not function properly with Javascript disabled.
Please enable Javascript
and refresh this page.