School is out!! We are finally done with the school year and we are excited to have plenty of time to rest and rejuvenate during the two month Christmas holiday.
We have grown in leaps and bounds. Some of us couldn't count but now we can: we have learnt new words and concepts. We have grown in weight and height: we have sharpened our skills and talents and we have been taught lessons that continue to develop our character. We look forward to joining new classes next year and 21 of us will transition to high school.
We have been in school for 36 weeks this year and because you gave, we had two meals when we came to school. Some of us solely rely on these two meals as mum and dad are not guaranteed of a day's work when they set out in the morning to look for casual jobs. Some of us have to share the little with other members of the household and we rarely eat to our fill. It is our hope that as we attain an education and increase our capabilities, we will break out of the cycle of poverty and our children will tell a different story. Together, we are building a different storyline.
Thank you for your continuous generous contribution and we hope that you feel valued and appreciated by us.
Happy Holidays!
"I want my daughter to have what I did not get. I do what I can so that she can get an education and go beyond where I am in life." Rael's mother shared during our annual home visits. Rael's mother is a casual labourer and supplements those earnings by selling potatoes outside her one roomed house that she shares with Rael and her niece.
Rael's mother's story mirrors the story of many of the families we serve. A majority of parents lacked the opportunity to finish school and now rely on casual work to provide for their families. One thing that stands out for most of these families is that despite their minimal earnings they, like Rael's mother, have opened up their homes to a relative(s). This means that they have taken the risk to spread the little they have even thinner so that one more person could have a shot at improving their lives.
A number of the children we support are beneficiaries of this rare kindness. They have been taken in by relatives and they are supported as they receive an education at Fountain of Hope Primary school.
We are inspired by these acts of bravery and kindness and even as we come to the end of the school year, we celebrate our parents. We celebrate their vision for these children, their resilience and the foundations they have set from which we continue to build on together.
Mahatma Gandhi said "Gentleness, self-sacrifice and generosity are the exclusive possession of no one race or religion" and we dare to add "........of no race, religion or economic status"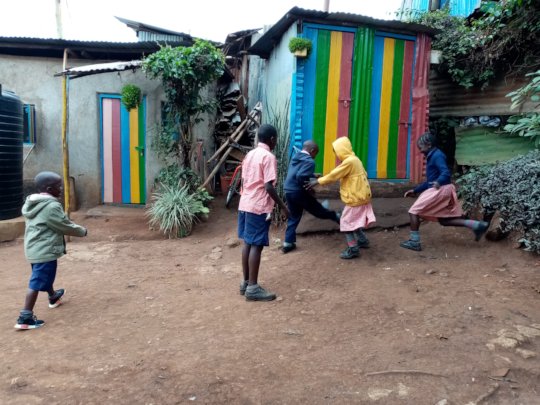 Imagine having to watch your peers go to school every morning and listen to them sharing stories of their day in the evening yet you have spent your day fetching water for people because your guardian cannot afford to take you to school. It's not an easy picture to paint yet this was the life of Leo for two years before he joined the transition program.
Leo is a quiet 15 year old boy who stands a head taller than all his classmates and loves football. He is the son of a single mother and lives in a single room with his auntie and five other children in Kibera. It's been a good year for Leo because he finally joins his peers every morning and comes to school and though he had to go back three grades due to being out of school for so long he is learning and catching up.
As the school year comes to an end, we celebrate the strides that our students have made this year despite the many challenges they face out of school. We are excited to see them join formal primary school next year and continue to grow in every way.
Since its inception, the transition program has prepared more than 400 out-of-school transition to primary school and in 2020 we plan to grow our impact by increasing our admission to 50 students per year. We hope that you will continue supporting us as we give children like Leo the gift of education.
WARNING: Javascript is currently disabled or is not available in your browser. GlobalGiving makes extensive use of Javascript and will not function properly with Javascript disabled.
Please enable Javascript
and refresh this page.