Despite the odds, the Fountains Of Hope student's achieved a personal best in their KCPE exams this year. The Standard Eight students had a seven-month pause in learning due to COVID and just three months to catch up and prepare for their end-of-school exams. Our teaching team worked hard during the school closures to keep children learning and clearly, their efforts paid off. The 20 young students achieved a mean score of 294, which is over 20 points higher than last year's results and our best score since we started running exams in our school in 2016. These exams dictate what options are open to them after primary school.
As the class approached the end of their time at the Fountains of Hope School, we gathered in March to remember great moments on the journey and pray for the road ahead. What was planned as a one-hour prayer time for the students, became a joyous two and a half hours of celebration and showering those students with encouragements. It was brilliant!
Each class teacher shared fond memories of the class, offered wise words and wished them the best. Students from both class Seven and Eight performed songs and danced in unison, inviting their teachers to join them. They performed poems, bible verses and dramas as we celebrated how far they have come. The dramas had the whole room in stitches. As the class representative, Lucy, thanked the teachers for their support, she also turned to her fellow students to remind them of their class motto – everyone can make it.
They will also leave the school with great memories of football tournaments, school trips, music competitions, holiday clubs and camps, all sorts of fun experiences. They also leave with firm friendships and with a whole team of TP staff who will remain their biggest cheerleaders. We will miss this wonderful class of kids but we're excited to see where their journey will take them next.
Thanks to your support, these 20 young people have completed their primary education. Something that almost one in four children in Nairobi's slums do not achieve. Thank you so much for enabling us to provide free and quality education to children who otherwise would not complete their primary education.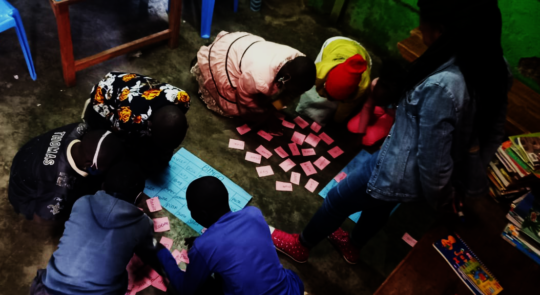 "Teacher, Teacher!" the children call out as they strain to raise their hand higher than the other kids. Finally, Roba is chosen to answer.
"School!" she says, and the word is dully scribed on the board. Now the children call out words related to this first word and a spider-like mind map slowly fills the board. Once all the children have contributed a word to the map, they settle down to write sentences using words in the mind map.
This is one of the games that the Community Library team are using to help children catch up in reading and writing.
16 children aged 9 and 10 years old are meeting every Monday morning to take part in the Accelerated Learning Programme run by the Community Library team.
We had planned to run this programme for 30 children during the long school holidays in April but another COVID lockdown scuppered those plans. Instead, we are running the programme for a smaller group of Grade 4 students who are currently out of school due to the phased reopening of schools in Kenya. So far, the children are enjoying the sessions and we are tracking their progress. We have further plans to repeat the programme later in the year for another group of children in grades 3-5 to reach our original target of serving at least 30 children.
Thank you so much for helping us to resource both the current programme and a second programme later in the year. We are so grateful for your support.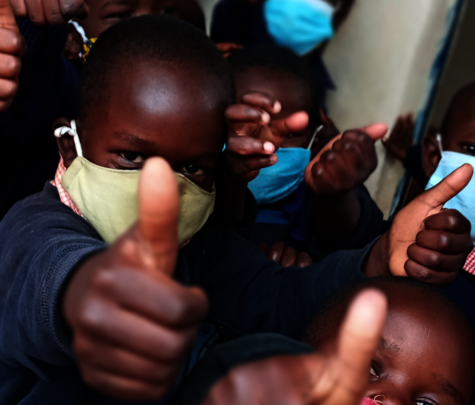 10-year-old Taji loves singing and wants to be a teacher one day. Taji already carries a lot of responsibilities at home as her mum lives away from home for work and her father is often busy doing casual labour work. Taji does most of the household chores for the family, she is usually found singing while she works.
Taji had been out of school because her parents couldn't afford the school fees but now Taji attends our School Transition Programme. Each day she is catching up on the education she missed and will soon join the Fountains of Hope School. Her dream of becoming a teacher spurs her on.
With your help, we make sure Taji gets a nutritious and filling breakfast and lunch every day she comes to school. Thank you for your support.
WARNING: Javascript is currently disabled or is not available in your browser. GlobalGiving makes extensive use of Javascript and will not function properly with Javascript disabled.
Please enable Javascript
and refresh this page.