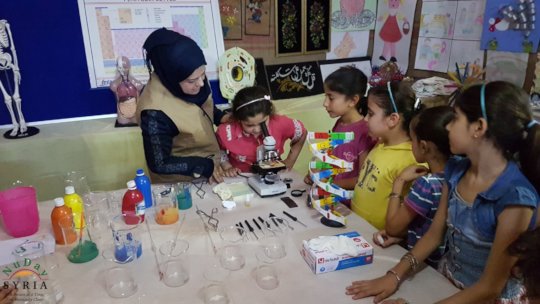 Molecules, atoms - oh my!
This year with your support, NuDay started a new class for schools: a science lab!
We know that the best way to learn anything is through hands-on learning - be that through writing notes, toying with a computer, or, now, mixing baking powder with vinegar to understand how chemical reactions work. Science classes are lead by our trained educational staff, who are just as excited as we are to be adding this unit to the studies of young children.
For our young girls, the opportunity to take science classes is a rare one - and many are already planning to follow this up with pursuing their medical degrees! There's nothing more we at NuDay love more than a group of strong-minded, insightful girls, ready to contribute their knowledge to the world, all while helping with a good cause!
Our GlobalGiving campaign is still seeking funds to cover the spring semester of the school year and has been expanded to include all of NuDay's three Future Generation Schools. Our schools are one of the few running educational institutions in northwest Syria that inspire independent and critical thinking, honoring the freedom of individuals as they choose their own futures.
Thank you for your unwavering support as we rebuild Syria's minds together.

One Person at a Time, One Humanity Closer!
Links: