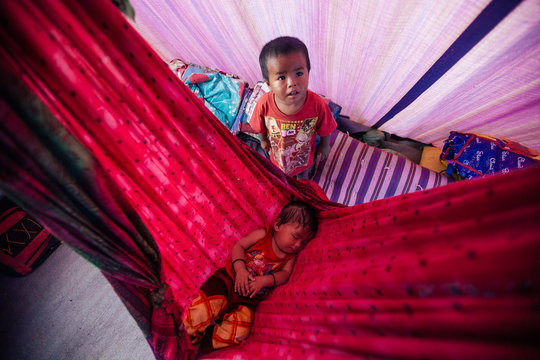 Dear GlobalGivers,
The images from my recent trip to Nepal are still fresh in my mind. One in particular is hard to forget.
For my second update, I'd like to tell you about my talks with weavers to hear their concerns, meet their families, and ask for their ideas. I spoke with Som, who had recently returned to Kathmandu from his village in Sarlahi, along with his wife and three children. At first, they rented a room in the city, but because of all the aftershocks, they found it hard to summon the courage to sleep inside. So, like more than 100,000 others, they set up a tent outside.
I walked into the tent that is now Som's temporary home and I saw a sarong stretched into a makeshift cradle with a baby inside. The air was heavy and damp, as monsoon rains have already begun and will only get worse.
The image above - which recently won the most votes in the Relief category for GlobalGiving's yearly photo contest- was snapped at that moment. As I looked at this scene of incredible vulnerability, I thought of the words from GoodWeave partner and respected exporter, Bala. Reflecting on recent months, Bala said: "Stability has been dismantled."
The instability applies to emotions, infrastructure and to the economy. GoodWeave Nepal was retained by the International Finance Corporation to contribute data on the extent of damages to the carpet industry, because it's a primary sector to Nepal. In our assessment, we found that at least 800 workers in our licensee supply chains had their homes totally collapse. We also estimate that 30% of carpet workers have fled the city. Some left to check on their family, others feared the outbreak of disease, and many went abroad in search of better opportunities.
At GoodWeave, our main mission is to protect children. The adult labor shortage poses a huge risk to boys and girls who are already being recruited by traffickers seizing on the tenuous situation. As a result, many conversations in the field centered on one question – how to bring adult workers back to the capital? I'm happy to report that GoodWeave is working on both a short and long-term solution.
In the short-term, GoodWeave has secured funding to support vulnerable workers to rebuild their homes, pay school fees for their children and receive psycho-social counseling. We heard that restoring stability in these fundamental ways will enable weavers to get back to work.
In the longer-term, GoodWeave is expanding its Weaving Opportunities program, which trains women in this craft and to be breadwinners for their family. It is a way to ensure that children do not fill the void on the looms and that Nepalese rugs retain their place in the world's market.
With your support, GoodWeave is getting adults into safer homes and better jobs, so that children can be children. On behalf of Som, and the all those who are feeling a newfound sense of stability – thank you.
Gratefully,
Nina Smith
Executive Director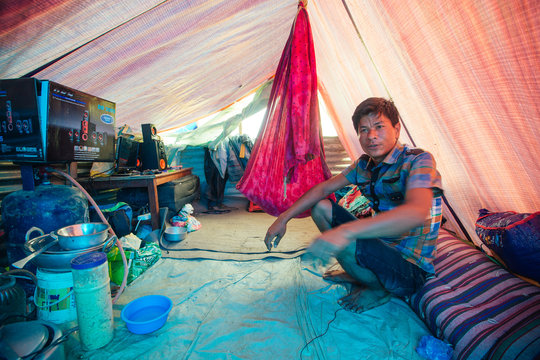 Links: