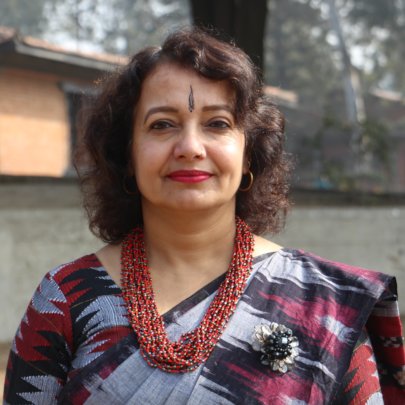 Dear GlobalGiver,
I am pleased to announce that Shusma Pokhrel, an expert in child protection and advocacy with more than 20 years of experience working in Nepal, has recently joined us as the new Executive Director for Nepal GoodWeave Foundation.
Prior to accepting this appointment, Shusmaserved for more than ten years as Director for Family Based Care Program and Advocacy at SOS Children's Village in Nepal. Prior to that she was the National Child Safeguarding Focal Point for SOS Nepal, and was involved in the Task Force at South Asia Coordination Group to End Violence against Children. In these capacities, among others, she has gathered a wealth of experience working with at-risk children, collaborating with other non-governmental organizations, advocating for the rights and protection of children, and engaging with government policy makers at the local, regional, national, and global levels.
Beyond policy expertise, Shusma brings practical experience in implementing effective programs. I am very excited about the future we can work toward together as we deliver on our vision to end child labor in Nepal. Shusma brings with her strong leadership with a proven track record, and a life-long commitment to protecting and promoting the rights of children. Her passion, coupled with her creativity and enthusiasm to ensure GoodWeave Nepal Foundation remains the leading organization in promoting responsible sourcing, bringing visibility to the informal supply chain, and giving voice to marginalized children and workers are welcome additions to the GoodWeave team.
I have had the chance to work closely with Shusma in her first few weeks in the position, and know that she is heartened by the impact that GoodWeave Nepal Foundation has had in the country. "GoodWeave Nepal Foundation has a vital role to play in partnering with the private sector to clean up supply chains, promote better working conditions, and ensure that children are going to school rather than work," shesaid to me. "As the leading organization in promoting responsible sourcing and eliminating child labor in Nepal, GoodWeave Nepal Foundation has been a driving force in shaping the national agenda and restoring childhood to at-risk children. Much has been done, and I will be relentless in delivering on our mission. Collaboration and partnership are essential."
Over the almost 25 years working with 70 brands and carpet importers in Nepal alone, GoodWeave -- with visibility into almost 425 producer sites -- has rescued over 1,200 children from labor, provided quality education to over 4,600 rescued and vulnerable children, and certified free of child labor more than 450,000 rugs. Most recently, GoodWeave has expanded into the brick sector in Nepal where its reach continues to grow. And, GoodWeave's impact goes beyond reach numbers as it has been a leading voice in positively influencing societal norms and behaviors to eliminate child and forced labor.
Now that Shusma has taken the lead, we are re-evaluating some of our programs in Nepal. This partnership with Build up Nepal has faced challenges and roadblocks that make it difficult to continue. So, while we re-evaluate, we are closing this GlobalGiving project down. Our commitment to rebuilding the lives of weavers affected by the earthquake remains as strong as ever, and we will continue to look for opportunities to help them in the most effective way.
I hope you'll keep in touch with GoodWeave as we move forward; you can find us on Twitter, Facebook, and our website (www.goodweave.org). As always, I am so grateful to you and the GlobalGiving community for helping us come this far.
Until next time,
Nina