We are completing the first year of operation of the world's first Eco-Stores and we have been reflecting on some lessons learned. The first lesson that we learned is that this project has been far more successful than we could have even imagined. Across the first 3 Eco-Stores we are collecting over 2,000 eco-bricks each month recycling over 500 pounds of plastics! This means we are able to increase the amount of rainwater cisterns we are currently building each year from 10 to 30. Another lesson that we have learned is to be firm with the community members about the quality of the eco-bricks they exchange. We had implemented a policy of leniency for the first visit to the Eco-Store however what we noticed is that once we accepted eco-bricks which weren't as full as they needed to be, the same customers would return again the next time with their eco-bricks lacking in quality. Finally we have also learned what kind of items our communities like. While in the town proper the Eco-Store customers typically prefer pantry supplies for daily consumption, in the smaller villages items for the home such as pitcher sets, comforters, towels, frying pans and LED lightbulbs fly off the shelves!!! We just wanted to share with you these lessons learned over the first year of these Eco-Stores as well as to share with you our plans for the future. These first 3 Eco-Stores are scheduled to receive funding in October to continue running them for the next year, making them sustainable after the initial year of start up. We are looking forward to continuing and expanding this project in both scale as well as into new areas! In fact, we have 6 new communities that are requesting Eco-Stores! Each Eco-Store costs around $3,000 to run for the start up year. Your continued donations are the first step to getting more people involved in recycling as well as to providing us with more eco-bricks to expand our community development projects. We hope you will continue being involved in this project.
Many thanks!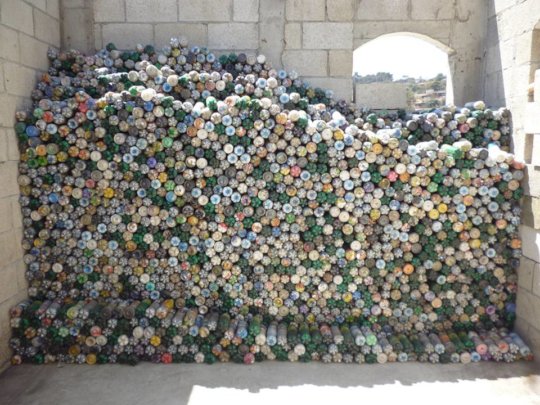 Today we want to share with you some details about the success of the Eco-Store project you are a part of as well as to share with you a personal testimony of an Eco-Store customer.
First, we want to let you know that thanks to your generous donations we have been able to gather over 5,000 eco-bricks that will be used next month to build 5 rainwater harvesting systems to provide water for over 50 people! These 5,000 eco-bricks have prevented over 1,000 pounds of plastic wastes from being burned or from being thrown into clandestined dump sites. Your donations have also enabled dozens of families at each Eco-Store location to obtain pantry and household supplies that they need, including one of our most popular items during the cold winter months: bed comforters. Today we want to share with you the testimony of one of those customers, Don Octavio. Don Octavio suffers from a variety of illnesses of the kidney and liver and is unable to work or to afford the medicines that he needs to manage his condition. His wife maintains the family by working in the fields in agricultural labor. As Marly interviewed Don Octavio on how Eco-Store Panimaquin has impacted his family, we learned that Don Octavio has become empowered to contribute to his family's economy by making eco-bricks and exchanging them in the Eco-Store for items his household needs. Stories like this from Don Octavio are just the beginning!
This year we hope to open 6 additional Eco-Stores in new communities as well as to keep the original 3 going. Also, in addition to an emphasis on recycling plastics, we hope to incorporate community consciousness raising on the devastating environmental effects of single-use plastics by showcasing 1 new product a month in each of the Eco-Stores that are eco-friendly alternatives to common household items (for example reusable water bottles as an alternative to disposable plastic bottles) as well as to display a poster educating the public on why the other item is not eco-friendly (in the case of disposable plastic bottles that it takes 450 years for it to decompose). Your continued donations will help us to continue developing this great project and to achieve these goals! Thank you for all your support!
Thanks to your generous donation 3 special children will be starting the school year off right! To kick off the Bright Futures Program your donations were used to provide each of the 3 children with almost all the items from the requested lists of school supplies their teachers provided as well as a backpack. This year we are planning on beginning a Homework Club where the students will receive tutoring once a week. Thank you for being a part of making this school year memorable for these dedicated children and for standing with their families to give support for the sacrifices they are making to educate their children. Keep a look out for further project updates!
WARNING: Javascript is currently disabled or is not available in your browser. GlobalGiving makes extensive use of Javascript and will not function properly with Javascript disabled.
Please enable Javascript
and refresh this page.