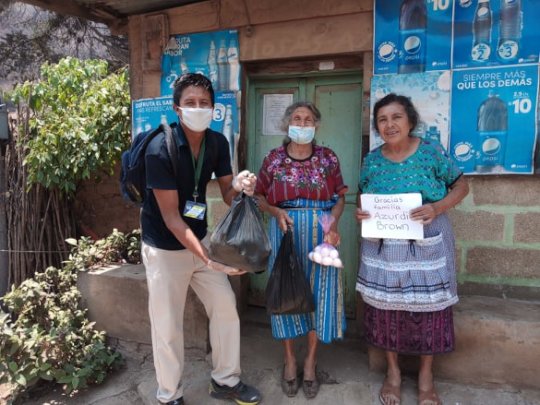 We just wanted to take the time to thank you for your donation and to give you an update on how we are putting it to good use. Thursday April 23rd our team members delivered the first selection of emergency pantry supplies to 30 needy families in our area. So far we have funds to provide emergency pantry supplies to a total of 128 families, which is an amazing impact in our community! April 25th we handed out 33 more pantry supply packages to needy families. We are focusing our efforts on households who have placed a white flag at their door to indicate that they no longer have food as well as households with elderly people (who are recommended to avoid leaving their houses) and households with people with disabilities. We have included photos of some of the families who have already received emergency supplies, however a more complete selection of photos appears on our organization facebook page at: https://www.facebook.com/compartiendo.nuestras.bendiciones.Guatemala/media_set?set=a.276560683350870&type=3.
We hope you will visit us there and check out the project album to see exactly which family or families your donation helped. We will keep you updated on our project progress.
Thanks again for your donation,
Colleen Supanich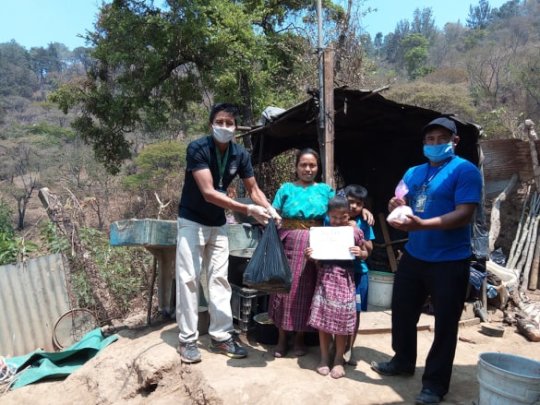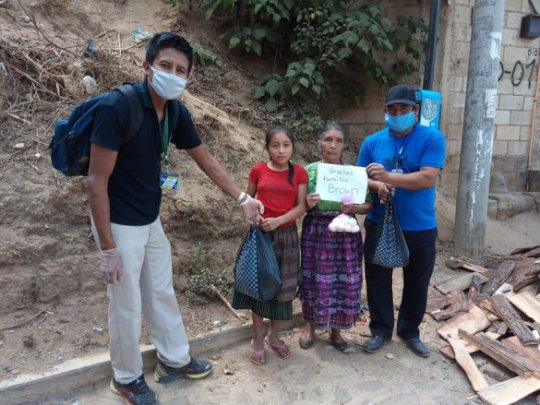 Time flies when you're doing what you love! June 2020 will mark our third year in our Eco Change Program. The program's overall goal is to motivate people to recycle by providing them with incentives. This year we are heading into one of our local area schools to work with the children to educate them on the problems with single use plastics and their disposal and offer them alternatives, one of which includes making eco-bricks with plastic wastes in exchange for items that they need in their schools, such as waste baskets, books, desks, etc. Last year, among our original Eco-stores, we also worked with an area school to recycle around 250 pounds of plastic wastes into 1,000 eco-bricks and in turn provided waste sorting trash cansfor the children to use to keep their school clean. To date we are about half way to our goal of recycling 5,250 pounds of plastic wastes into eco-bricks which are then used to build rainwater harvesting systems in communities with water scarcity. We want to take this time to thank you for supporting this great project and we hope you will continue to be a part!
Always looking for new ways to encourage people to reuse and recycle their plastic wastes into eco-bricks and to draw their attention to the problems associated with single-use plastics, this semester of our eco-brick recycling campaign we headed to a public school in the village of Chimachoy, where students exchanged 1,000 eco-bricks for a set of trash receptacles to help keep their school clean. The trash receptacles allow students to seperate their trash into paper, organic and inorganic trash for better waste disposal. In addition to providing the trash receptacles, this initiative prevented 250 pounds of plastic wastes from being burned and will provide the eco-bricks for almost 1 and a half rainwater harvesting systems. In the future, we hope to continue more outreach in the area schools to work on encouraging and motivating youth to take better care of their communities. We are also working on starting up children's movie afternoons, where local kids will exchange eco-bricks for movie entrance and snacks. We plan to show children's films, such as Wall-E, which will provoke discussion about caring for the environment, as well as will provide children with much needed wholesome entertainment. Your donations make this work possible!
WARNING: Javascript is currently disabled or is not available in your browser. GlobalGiving makes extensive use of Javascript and will not function properly with Javascript disabled.
Please enable Javascript
and refresh this page.