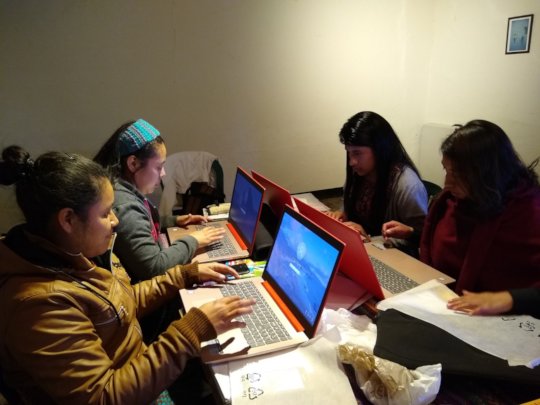 In January 2019, Girl Rising started the year with a training with each partner organization: REDMI Aq'ab'al and MAIA. The mentors were able to watch the two other films that were dubbed to Spanish back in December of 2018, and we took a deeper look at the curriculum, storybook, and Monitoring and Evaluation Tools. The first module focuses on Ruksana, a girl from India, and we discussed issues around informal settlements, forced migration, gender-based violence, and the right to education, but also to art and leisure time.
Before starting the module with girls, REDMI's mentors had meetings at the community level to guarantee the safe space to hold the sessions and did several home visits to inform parents about the program and invite girls to participate. At MAIA, the sessions started almost with the start of the new school year. At the end of January, mentors led an introductory session to describe the program, to get to know the girls and to pass a pre-test on girls' perceptions around different issues such as child marriage, adolescent pregnancy, violence, life plans and other important issues concerning girls and women. The mentors did a similar pre-test themselves, and at the end of the pilot, both mentors and participants will answer the same questionnaire so we can compare answers around these issues after the 24-week program.
The sessions started in February, and for a month now, the mentors have been meeting with girls on a weekly basis to look at Ruksana's story in the short film and storybook while reflecting on their own lives and experiences. MAIA is working with 9th graders and will use part of the materials with 7th and 8th graders. REDMI is working at the community level, welcoming all the girls that want to participate, whether they are in school or not, and no matter their age. There is a need for spaces for girls to get together, talk with each other, learn and play.
Currently, the weekly sessions are focusing on Ruksana's story, and with each session, the mentors are taking note of new participants, of aspects of the stories and materials that are useful and others that need to be strengthened for local use. This will be helpful to edit and change the curriculum for the future, so it's more contextualized, and we can scale-up to cover more regions of the country.
In terms of partnerships, we have continued to hold several meetings and presentations in different spaces, with local and international organizations working in Guatemala, to find ways in which we can collaborate this year and in the near future. There is a lot of work to do in the country around girls' and adolescents' rights, and it continues to be important to build a stronger network of people and organizations so we can learn from each other and push for more options for girls and women. Some people in congress are trying to push retrograde laws while pushing away laws that are looking to protect girls and adolescents in a more integral way. This year, Guatemala will have elections as well, so in the midst of all this, we need to keep advocating for legal frameworks that protect and promote girls' rights in everyday life, in the present and the future.