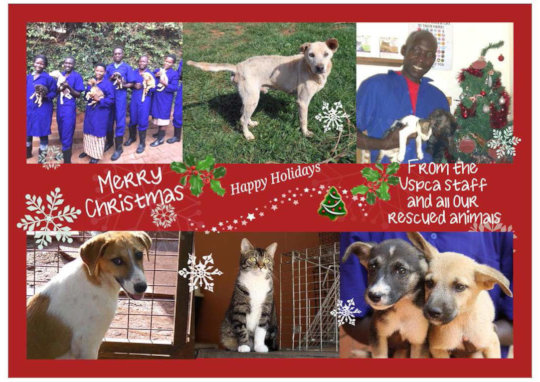 Dear AKI & USPCA Supporters,
Many of you know Alex Ochieng, the Manager of the Uganda SPCA Haven. If you know Alex, you know he's an animal hero. Even if you don't personally know Alex, you may know the extent he goes to to rescue cats and dogs (recently he also rescued an owl). And if you're not aware yet of Alex's heroics, after you read this, you will be (pictures of all rescues are below).
After receiving a call in early October about a puppy who had fallen into a latrine, Alex grabbed his tools and went off to Mukono. Mrs. Margret, who had called the USPCA, told Alex that the puppy had been stuck in the latrine for 1 1/2 months!!!! The family had been throwing food down the hole every day. It took Alex 2 1/2 hours to get the puppy out. He brought her, named Vodka, to The Haven, where she would be safer and well cared for. Better yet, Vodka was adopted!
Early on October 12, a USPCA friend called about a baby owl, who had fallen from the nest over night, got caught in an overhead wire, was able to disentagle himself, but fell down onto a roof. Alex rescued the owl, brought him to the vet, who didn't find any injuries, so he returned the owl back to the nest.
Alex rescued a little boy dog in early October, when he saw some kids had tied him to a rope and were pulling him down the street. He was full of ticks and fleas-who knows what these kids had in mind. But Alex talked to them and explained why he was taking the puppy to The Haven.
At the end of October, the USPCA received a call about a dog stuck in a sack! Really! Alex found the dog inside a bag, was able to release her, and brought her to The Haven, so she could recover from the trauma.
On November 9, Alex was driving to Nsambya to inspect a home before approving a family for adoption, when he spotted the tiniest kitten crossing a busy street. Somehow the kitty managed to avoid the 8 tires of a truck! Alex pulled over, made his way through very busy traffic and scooped up the kitty, who went to a foster home, where he could get the good, personal care he needed.
On November 14, Alex had told us that he thought he wasn't able to move because of the flu, dry cough, and a really bad headache. But he received a call about a kitty that had been stuck on the top of a wall for 3 days and off Alex went! He needed a ladder to reach the kitty, but he did reach him, got him down from the wall, and brought him back to The Haven.
About 1 year ago, Alex had run into a similar situation: a cat stuck in razor wire. On October 20, it happened again. When Alex got the call, he packed up his rescue tools (including the animal handling gloves donated by AKI), he extricated the kitty, who was pregnant, and brought her to the USPCA clinic to be checked out, and then for recovery at The Haven.
Imagine....a larger, more accommodating Haven....for Alex to manage, for a better environment for rescued cats and dogs, for Ugandans and other Africans to learn about animal care and sheltering. We need your help to make this happen, let's do it for Alex!
The land that we mentioned in the last update is still available, we're still hoping to be able to purchase it. Besides this GlobalGiving fundraiser, the South African Womens Organization (in Kampala) is raising money and as of today, has raised almost US$4000! We're getting there!!!
Thank you for your support. We are so grateful for your help. All the best to you in 2018!
Links: