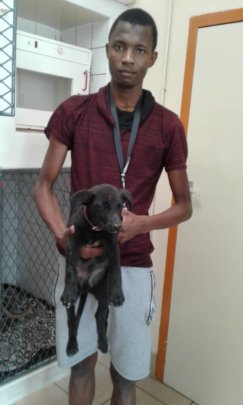 Thanks to your generosity, Have A Heart-Namibia (through your donations to GlobalGiving for Animal-Kind International) has helped so many cats and dogs since I last wrote in December. We continue to provide vet treatment through the AKI-HAH Emergency Fund, support HAH parasite treatment and booster shots, and contribute to HAH spay/neuter when we have available funds. Here's how your donations have been used in the last few months:
On January 17, Geesche (HAH) told us about Peet:
We had a little customer for AKI, Peet broke his leg - twice - it must be super painful :-(
He is from Mondesa location in Swakopmund and his owner Mr. Haraseb asked for help for little Peet.
Peet's leg got fixed and he got neutered at the Swakop Vet Clinic, thanks to AKI!!!! He will have to come in on Friday for a bandage change, and then later will have to get the pin removed from his leg. I will keep you posted.
Then, on February 19, Geesche sent an update about Peet:
Peet's owner showed up with Peet and his other dog at the vaccination and parasite day we had last Saturday! Vet Nurse Sheelagh recognised Peet immediately, spoke to the owner and told him to come to the clinic the next day, as Peet needed a control x-ray because of the pin still in his leg. The next day Peet was checked by Dr Tharina at the clinic and except for a little eczema on his face, he was perfectly fine and will get his pin removed in two weeks. Of course he received treatment for the eczema!
(See the pictures of Peet on January 17 when he was treated for the broken leg, and then on Feb 19, when he returned to HAH vaccination and parasite day).
On March 5, we received this message from Geesche about Fire:
Fire broke his leg when he got hit by a car, probably on his way looking for a female dog in heat. His owner brought him to the clinic on Saturday evening and Dr. Tharina phoned me. She said Fire will need surgery but his owner can't afford it, will AKI be able to help? I said yes, the emergency fund is for dogs like Fire.
She said Fire will get his operation on Monday morning and she is beyond thankful for AKI's emergency fund as Fire otherwise would have to be put down, and that would be only because Fire's clearly caring owner can't afford the operation. This would have been terrible and traumatic for him, his family and also not easy for the vet!
Fire is now recovering at home, he was of course also neutered, vaccinated and treated against parasites. He received his vitamin injection to boost his healing and of course pain medication! All thanks to AKI!
On January 27, we heard from Geesche about Wagter:
Wagter came in with an ingrown collar. Yes, this is something that is easily preventable and I'm sure the family learned their lesson, but more important is that Wagter received help!
Wagter was in pain and he would have died eventually and his family would not have been able to do anything about it without AKI's emergency fund. Because of AKI it was no question Wagter will get what is needed in order for him to heal!
Dr. Baines removed the collar, cleaned and stitched the wound, neutered and vaccinated Wagter and treated him against parasites. He got a vitamin and a pain injection and antibiotics. In short, poor Wagter got a second chance to live a happy and healthy life! All only because of AKI!! Can you imagine the relief his family experienced when they realised Wagter will be helped when they thought there is no help for him? AKI took a big burden off their shoulders. Not to mention how Wagter must feel now-no more pain!! Thank yous are not not enough. (See picture of Wagter).
Besides the Emergency Fund, we're still supporting HAH-Namibia booster shots and parasite treatment for pets brought back to the HAH-mobile clinic. On February 19, Geesche told us:
We saw a total of 111 dogs and 2 cats on our vaccination day, all of them received anti-parasite treatment and 50 of them were due for their booster vaccination.
Up to date vaccination is so important as we have lots of parvo and also some distemper deaths in this area.
And of course we have a huge problem with mange and lots and lots of fleas, ticks (all houses are built on plain sand) and worms - only a handful of houses have running water. Parasite treatment in dogs and cats is essential to keep not only animals but also their families healthy. And while we are there, nail cutting if need is of course also done.
Also, thanks to your donations, we were able to support booster shots and parasite treatment at the Karibib and Usakos HAH mobile clinics in February:
HAH vaccinated and provided anti-parasite treatment for 37 dogs and 1 cat in Kamanjab, and in Khorixas 15 dogs and 3 cats! Geesche wrote, "Thank you so so so much! Especially Khorixas is somehow a "forgetten" town but the dog and cat owners are so grateful for the support!"
Here's one of the very grateful clients: Hendrik Gawiseb and his children are very thankful to Have a Heart and AKI about the ongoing support they got for their dogs Beauty, Brownie, and Witfoet (White Foot). All three came to see us during the vaccination day and received their needed vaccinations and parasite treatment! (See picture)
But we saved the best for last.....a happy pig, thanks to HAH, your donations, and AKI!
From Geesche: 27 January, we had a very special customer asking for help in Khorixas: Pinky, a little piglet (first time we were asked for help for a pig or piglet!) was brought in to Dr. Baines. Pinky had a big hernia. Luckily Dr. Baines has been able to help Pinky and the little one is already feeling so much better!
In Germany we have the so called "Glücksschwein". Translated it's a lucky-pig. Such a Glücksschwein is supposed to bring you lots of luck and money :-) So I hope Pinky will be super busy in 2019 and will bring you tons of both! We are only able to help little Pinky because of AKI and we are also very happy about the fact that Pinky's family brought the little one to a vet in the first place. Pigs are just random animals for food here in Namibia. They are not mistreated in general but they are also not something special, but the fact his owners cared about the potential dangerous situation for Pinky and made the effort to present it to a vet, shows, this lucky piglet is in caring hands that worry about his well being and it is respected as a living creature. Thank you so much AKI to make it possible for us to support such great people without even having to think about it twice! Pinky and his family shows, the world still has good people!
Thank you to our donors for all this great work that HAH has been able to accomplish for Namibia's dogs, cats, and pigs!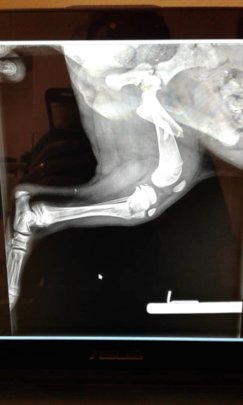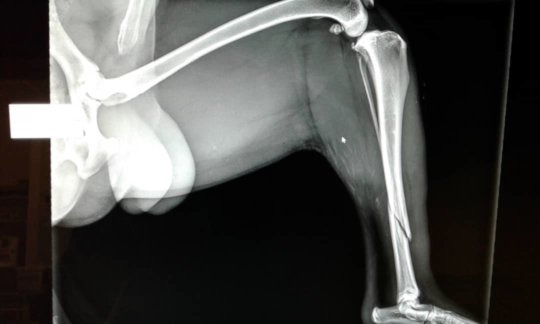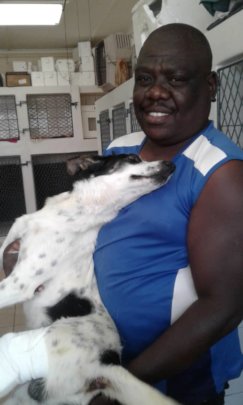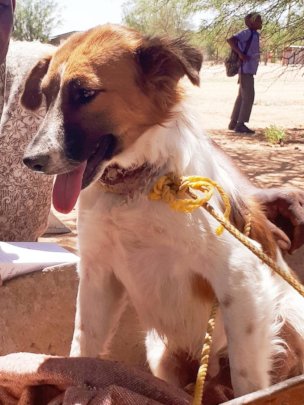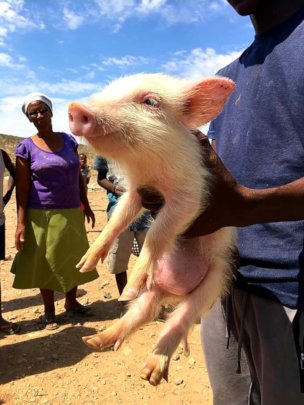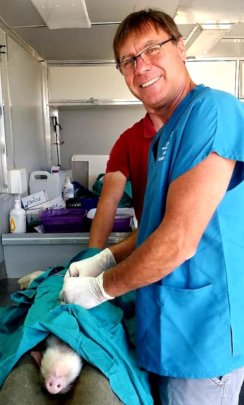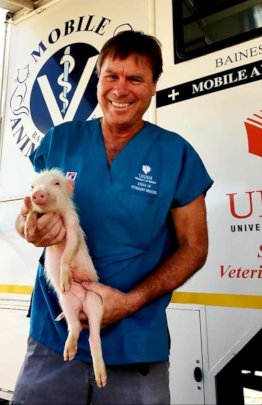 Links: