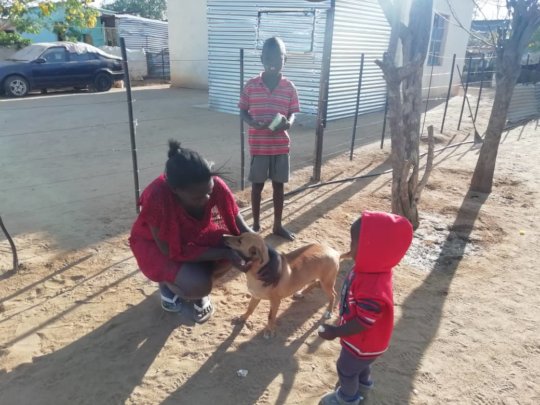 Thanks to donations to our GlobalGiving Project, the Have A Heart-Namibia Emergency Fund was there for Witfoet, Lucky, and Speedy.
Witfoet from Omaruru was neutered almost 4 months ago as part of HAH-Namibia's spay/neuter program. At that time, he was diagnosed with transmissable venereal tumor. We see a lot of TVT because of the many dogs who aren't spayed or neutered. (In our September Progress Report, we told you about how the AKI-HAH Emergency Fund was used to treat Blik's TVT). Witfoet started his once/week treatments funded by the AKI-HAH Emergency Fund (the treatment lasts for 6 weeks). On September 16 he had his last treatment. Witfoet was pronounced completely healthy. He's a much loved dog (see picture) and his famliy was very grateful to HAH for the assistance.
Lucky from Swakopmund was an HAH client last year, when he was neutered. In September, he was hit by a car and -(sorry GlobalGiving wouldn't let me post his picture)- got a really bad "carpet burn" on his tummy. It looks really painful, but thanks to the AKI-HAH Emergency Fund, he was put under Dr. Tharina's care. She was a bit worried the skin might peel off and that he could get an infection. But his family took good care of him and he healed up nicely.
Speedy from the Kapsfarm area was neutered in December 2018, an HAH client. He recently broke his leg and because of AKI's Emergency Fund, HAH could get him treated at Rhino Park clinic in Windhoek. He has the saddest eyes, but he's doing fine. He had plenty of pain meds and rest...just what he needed!
In October, Geesche asked me to help with the English translation of a kind of prospectus on Have A Heart-Namibia, something that HAH could give to businesses and others who might be interested in supporting the organization. I was proud that AKI featured on the 1st page of this several page document, and I thought you might be interested in this excerpt:
**********
Since the first spay day in August of 2013, Have A Heart has grown to having teams working in over 20 towns across Namibia and has collectively sterilised over 7,500 (as of April 2019) animals.
How does it work? HAH works with several vets who offer us a discounted rate and in December 2016, HAH was offered the opportunity to also book Dr Baines and his mobile veterinary clinic, the first and only in Namibia, to reach even more remote villages and settlements. The mobile clinic is on the road for a week of every month, holding spay days in remote towns without vets.
HAH provides free sterilisation operations to dogs and cats of low/no income families, which is defined as earning N$ 3,000 a month or less. Every animal sterilised also receives full vaccinations against diseases such as rabies, a multi-vitamin injection and internal and external parasite control treatment.
Due to additional funding from Animal-Kind International (USA), we are able to offer free basic medical treatment for injuries and sickness for any animal brought to HAH from the local community. This has included treating dogs and cats for tick bite fever, cuts, broken bones, snake bites and burns.
*************
[Later, the prospectus mentions that AKI also funds booster vaccinations, parasite treatments for returning clients, and fills in when funds for spay/neuter run short.]
Thank you to our GlobalGiving donors for giving us this opportunity to help so many cats and dogs in Namibia by keeping them healthy, happy, pain-free, and sterilized!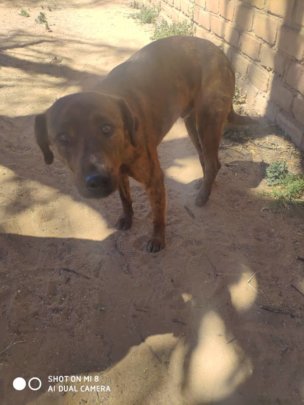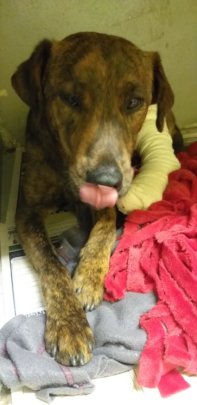 Links: