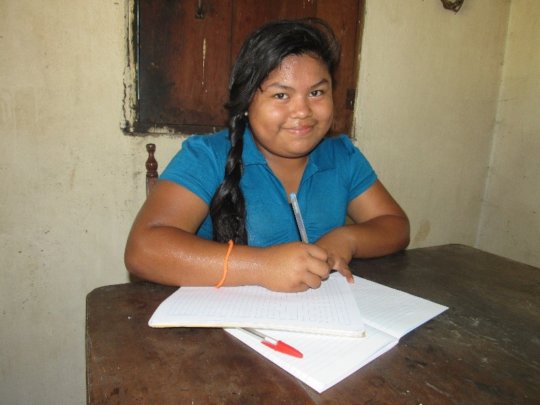 María, is a 14-year-old girl, who lives in a rural community called La Libertad, in Guatemala.
She is one of the beneficiaries of our scholarship project. Maria's family is integrated by her mother, father, two brothers and a sister. Maria's father is a farmer and her mother housewife.
The limited economic resources they faced, does not allow Maria to continue studying and that happened to a lot of other girls of the community, they have to work in the coffee plantations, to help the family income.
Maria's mother knows perfectly that theirs sons will repeat her history, if they do not have the opportunity to continue studying.
At the beginning of the year a Plan International facilitator, visited Maria's house, talked with her mother to offer her a scholarship. Now María is in second grade of medium school. Maria walks every day 12 kilometres, to arrive to school, but this will not be an obstacle for her!
The scholarship has been used for registration, uniform, transportation and school supplies.
"I'm doing the best I can, to reach my dream of becoming a nurse"
"I'm doing the best I can, to reach my dream of becoming a nurse. I see myself working as a nurse and attending the convergence centre in my community. I want to help mainly children and the elderly. In my community there are very poor people who cannot afford a doctor and soon I can be able to help and care for them. Thank you so much to let me change my future" María