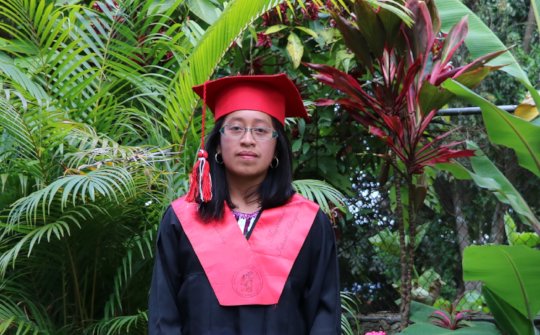 In Santiago Atitlán, Guatemala, our school year ended in November. This time of year is full of excitement for students and families alike. For families whose children are graduating from advanced levels of study, this is also a season of immense pride as higher education remains inaccessible for many young people in our community.
As the year comes to an end, Cojolya's team is thrilled by the progress our Mano a Mano para el Desarrollo students have made this year, in large part thanks to our supporters. María Isabel is one of the thirteen students in our program who graduated with a degree in teaching early education in October. María was one of the first three students to participate in our program beginning in April 2017, and she is the first student to graduate with a secondary degree as a professional teacher.
Financial barriers are a primary obstacle impeding students in our community from continuing their education. Many students manage to finish primary and elementary school, but only 24% continue studying in what is called "The Diversified Level" (el nivel diversificado) in Guatemala. Helping students and their families overcome this financial hurdle is a key focus for Mano a Mano.
Though María could have gotten by through her hard work and determination, in a family of five with only one primary income from her sister's weavings at Cojolya, financially supporting herself through school would have been incredibly costly. Thanks to your donations on our GlobalGiving fundraising campaign, we were able to support María this schoolyear through school supplies and usage of computers. As her family cannot afford neither computers nor Wi-Fi, she was able to come to our office to conduct necessary research and print her homework in order to offer the necessary didactic materials to her students as she worked as an assistant teacher this year as part of completing her teaching degree.
In our year-end oral and written evaluations of the Mano a Mano program, she explained how Mano a Mano helped her most, "Before the program existed, I could get by, but I had to spend plenty of my own money and do artisan work in order to support myself." Rather than resting or studying after her school day, María worked as an "urdidora" (a thread warper) which is a time consuming and physically demanding form of artisan work. "Studying and working full-time is very difficult," she said.
Her last year studying to become a teacher was the most academically demanding, and she was relieved to receive substantial academic and material support, "From the bottom of my heart, I am so grateful to all of those who donated and hope they continue supporting the other students in the Mano a Mano program." María is thrilled to receive a job that will support herself, her siblings, and her dreams, "I am so happy I achieved my goal of becoming a teacher, and I am so excited to work with kids." Yet, the work is just beginning for our young program and for María herself as she hopes to be able to afford to attend university as well.
Our multi-generational, local vision for Mano a Mano is that the thirteen students in our program can achieve their goals and become professionals to help our community develop. Your continued generosity would help us continue to provide necessary resources for the sons, daughters, and siblings of Maya weavers. This is all the more possible if we reach our $10,000 fundraising goal for the following schoolyear. Empower our students to follow the example of María Isabel so that their dreams become realities.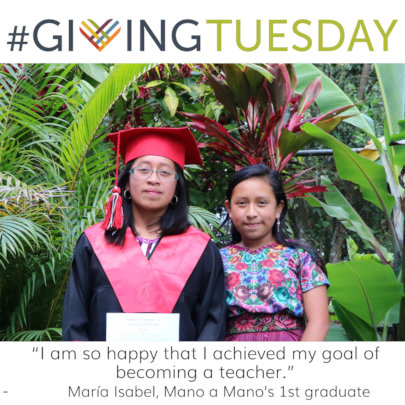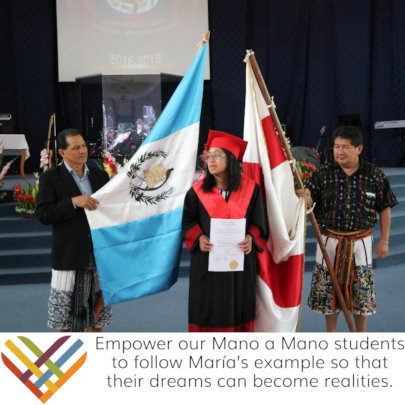 Links: