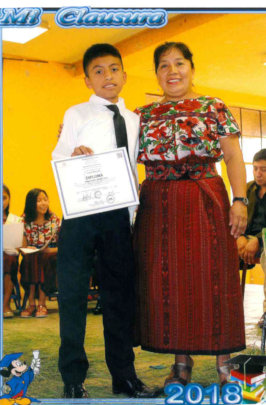 The photos that middle school graduates receive at their closing ceremony reflect how this key moment of growth is both celebratory and formal within our community. A gregarious and curious 13-year-old, Pedro looks serious at his middle school graduation in contrast to the usual endearing images of him mid-conversation or letting out one of his huge laughs. Even so, graduating from middle school is nothing short of significant for Pedro and his family.
This year, we had the honor of supporting Pedro across the schoolyear, and he reached his initial goal of graduating middle school, which he set for himself when we first began developing our Mano a Mano para el Desarrollo social program almost two years ago. As a team, we are so proud of him because he is the first of his siblings to graduate from middle school. His parents are so happy and are hopeful that as the eldest, he will be an example for his three younger siblings so that he can inspire them to follow in his footsteps.
Pedro's mother is an artisan who does beadwork, and his father is a travelling salesman who once dreamed of graduating from college but had to drop out of secondary school when his family fell on hard times. Fortunately, Pedro's aunt, a warper and weaver at Cojolya named Magdalena Reanda Pacach, connected him with Cojolya's academic resources that are available thanks to your support and the impact of your generous donations.
In the photos from his closing ceremony, Pedro did eventually let his usual triumphant smile shine. He has reached a crucial moment because he has many more steps to take before graduating with a university degree in education, which is his dream for now. A participative, artistic, and friendly member of our program, Pedro would be an outstanding mentor not only for his siblings but also within our community.
"I am so excited to meet the teachers, make new friends, and learn even more in high school," Pedro says about the coming schoolyear. Yet, we still need your support in these last moments of 2018 so that we can help Pedro continue his studies and help the other 12 students in our program pursue their dreams in the coming schoolyear.
Once more, we are deeply appreciative of all the donations from our 2017 campaign because through them, we could support our kids this year, and we are thankful for all the generous people who have donated and are donating to our project in 2018. Thank you!
From Cojolya and Mano a Mano, we wish you happy holidays and a Happy New Year!