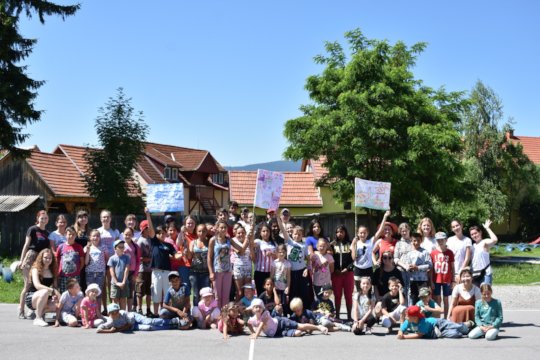 Hi, my name is Hannah Beck, I study at the University of Cumbria and I participated in Care2Travel's Xántus Summer Camp, which ran during 25th June until 28th June 2019, from 8:30am until 2:00pm, at Xántus János School. The camp aimed to give disadvantaged Roma youth the opportunity to take part in a week of activities that engage with various skills and new people. Snacks were provided throughout the week and any resources needed for activities and games were provided by Care2Travel. The number of children averaged to approximately 50, however numbers differed each day.
The process began on Monday 24th with a planning session. This required the Care2Travel camp coordinator, international volunteers and local volunteers to come together to firstly establish and understand each other's strengths, weaknesses and share expectations and experiences with children. This element of the week was essential in enabling that each team obtained various teaching styles and personalities in order to create the most well-rounded, reliable and accessible group leaders as possible. Each team had a Romanian speaking volunteer, as well as some even having a Hungarian speaking volunteer, which was extremely important as some children had very limited ability to speak English and needed translation.
When planning for the week, we wanted to ensure stability for the children so spent time discussing group sizes, opportunities to adapt and swap groups and making sure that the children maintained motivation. Keeping this in mind, a significant part of the summer camp was team work and collaboration with an element of competition. As a result, we came up with three teams. As a group, we decided that everyone would plan for Tuesday and each team would individually plan for each of the following days, which could be adapted for each team if an activity was not working as well. Each day consisted of games and activities that were educational and competitive meanwhile were stimulating, purposeful, targeted specific skills and disciplined in some way or another. We had a debrief at the end of each day to discuss what went well and what could be approached differently.
Tuesday's camp was primarily planned for the children to be introduced to their new colour team, building a positive team spirit and becoming more comfortable with their peers and us. Each child had a name tag each day in their colour, including the team leaders. We then spent time coming up with team names, making sure the children were able to give suggestions and vote (Blue Dolphins, Yellow Chickens and Pink Panthers). Each team made flags which were kept with each team all day and could be taken home by a member of the team, so that was an incentive. Moreover, if a flag as left unattended at any point throughout the week, a different team could take it to gain an extra point. We began each day with an aerobics session (which I lead on the last day) as a way of bringing everyone together. From that afternoon and throughout the week, we played many colour team games such as: Clap Wave, Fruit Salad, Silent King, Human Knots, Hangman and Wink Murder. We then had competitive games to gain team points, such as: The Floor is Lava, Blind-folded Obstacle Course, Spaghetti Tower, Eleven, Chocolate Run and Bucket Relay (a favourite with the children and myself!). Each game contributed to a multitude of skills: gaining confidence, maintaining focus, collaboration, encouragement, strategy, empathy, responsibility, trust, the use of English (which was constantly encouraged), time management and kindness- to name but a few! We ended the Summer Camp with a Mini Olympics which ranged from activities inside and outside and ended the day with a ceremony and team prizes which consisted of certificates and a bag of snacks and drinks that were shared amongst each other.
Through other's experience and knowledge and my own as a trainee primary school teacher, it has proved that it is vital for us to gain an understanding of particular behaviours, why they may occur and how we can establish boundaries and realistic and achievable behavioural expectations in order to achieve the best outcome for each individual child. Personalities varied, however while some showed a real improvement in their confidence and ability to immerse themselves in activities, others showed the ability to control themselves and use their energy to motivate and help others.
This experience showed me that these children can achieve so much given the time, support, compassion, understanding and opportunity; this being the case even if they came for a couple of days. Not only did they showcase many positive attributes and a change in attitude in such a small period of time, but they taught me more about myself and my improved ability to be a teacher.