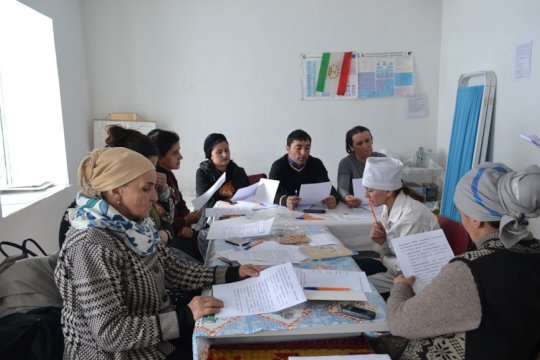 A new decade! As we all reflect on the last ten years and ponder what the next ten years have in store, those in the communities where we work have a number of things to be hopeful for. New greenhouses are increasing the options of a balanced diet and the levels of agricultural knowledge, women's health groups are spreading simple but life-saving actions to improve health. But most of all they have an increasing realisation of the resources they have at their disposal and of what they can achieve together.
Greenhouse project
We have been busy monitoring the greenhouses in two valleys, both school greenhouses and a private ones. We find that regular monitoring helps build a strong relationship with our partners allowing for regular feedback, ongoing training, and quick resolutions to problems they may be facing.
We conducted a phone survey with all our partners in the Ghund and Shokhdara valleys. We conducted the surveys at the end of the year, when all famers have harvested their crop. The best outcome we had was shown by project partner with more than 700 kg of crop from 56 m3 hothouse at 3200-meter elevation that we assisted with plastic and training.
We held a partners meeting with our newer or struggling partners. We invited to our meeting an experienced farmer as a local adviser. The project aim has always been self-sufficiency by promoting our local partners continuously. This meeting helped us to make stronger relationships with our partners, learning from mistakes, sharing ideas, comparing results, and creating plans. We hope to encourage and challenge our famers and aim for being more independent or totally independent from the project in the near future.
We continue to work on new, more affordable greenhouse designs.
Health project
Zamira is a young mother of three children, living in difficult circumstances. Her husband working in Russia since there are few work opportunities in the remote mountain area where they live. As a child she longed to become a medical doctor and always had a thirst for knowledge. Her family circumstances didn't apply for her to go to medical college because of the cost involved. She loved having the opportunity to attend our lessons relating to childhood illnesses and maternal health topics. Her thirst for knowledge hadn't left her, and she used the knowledge she gained to share with her family and the people of her village.
One day her sister called her to say she was on her way to the Doctor with her son, because he had ear ache. Zamira asked about the symptoms and explained to her sister that this can happen after the cold if he has been blowing his nose really hard as is the custom where they live. The next day having been to the doctor, Zamira's sister phoned to ask her how she was so knowledgeable about ear ache. She explained that she is participating in the training with Operation Mercy where they learn about childhood illnesses and recommended to her sister participate in such trainings. After this Zamira felt happy and proud that she could recognise some of the health problems and ways of preventing them. And that because of this she was not only in position to help her own family but other's too.