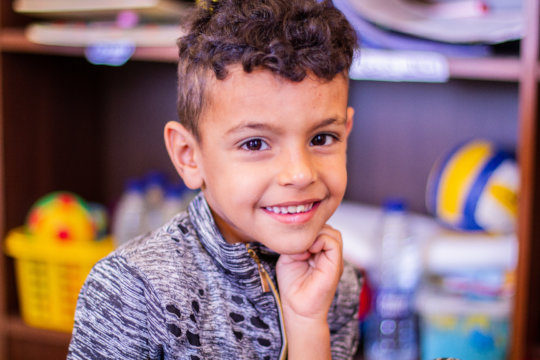 During the summer months, the kids have enjoyed coming to the center for both educational and stimulating activities that are clearly helping to work towards developing goals. We have also taken the opportunity to bring in some extra fun things for the kids to engage in and to explore their giftings and talents. A couple of highlights have been when local volunteers from the community have come in and led the kids in making soap and accessories. These activities have been both enjoyable and educational.
The volunteers in the local CBO we're partnering with have also been working very hard, especially during the religious festival, Eid el Adha, at reaching out to the community, spreading the message of working towards inclusion for all. Step by step they are gaining the community's respect and having an impact, which, in the end, will improve the situation for the children in their community with disabilities.
The summer is almost over and this will be our final report on GlobalGiving. We are so grateful to everyone who has given and supported this project. Although this is the last project report, we hope you will still stay connected with us! If you would like to stay updated on this project, please follow us on Facebook at Operation Mercy Jordan or on our website at www.mercy.se/jordan/.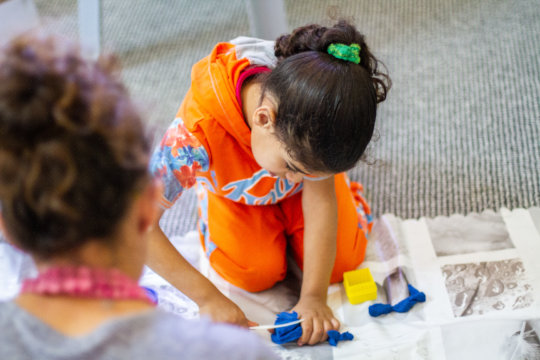 Links:
Operation Mercy gives thanks and appreciation to Dr. Scott Breslin who has served as Operation Mercy's International Director for the past 10 years and welcome's the new International Director Andrea Vogt.
Andrea joined operation Mercy in1996 as a volunteer for work in Uzbekistan engaging in work among the blind and disabled. From 1996 – 2005 she led different community disability projects, eventually becoming the Country Director of Operation Mercy in Uzbekistan. After a pollical change in the country forced many NGOs to leave the country, Andrea studied at UCL in London, completing her MSc in International Community Disability Studies in 2007. From 2008 to 2018 she served as Country Director of Operation Mercy Tajikistan.
Andrea returned to Germany in April 2018 and after a period of readjustment at home, accepted the role of Associate Director for Operation Mercy International in December 2018. On 21 May 2019, the board of Operation Mercy appointed Andrea Vogt as the next International Director.
"I am excited to step up to this challenge after growing and developing with Operation Mercy over the last 23 years. I believe we have the potential to be an even greater blessing and resource for hurting communities in Central Asia, the Middle East and North Africa. My goal is to grow our capacity so we can fulfil this potential." – Andrea Vogt
Two weeks ago I retunred from a ten day visit with our project staff in Afghanistan. We have over 100 staff and two office locations where our staff focus on self-help groups, maturnity health, water & hygene, and literacy. I arrived in Mazar, Afghanistan in the morning via a Turkish Airlines flight from Istanbul. As we decended on Mazar, I was struck by the endless brown landscape with seemingly no trees, green plants, rivers or contrasting colors to the dry clayish brown terrain. When I stepped off the airline I was struck by 40 C tempatures and it was early morning! The airport was crowded with armed military personel reminding me I was now in a war zone.
But what I discovered on the ground, as I visited our staff and the projects they were running, stood in contrast with the somewhat inhospitable physcial geography in which the projects take place. The Operation Mercy staff were generous, outgoing, and motivated to help imporve the quality of life for the poor and marginalized in the region.
I accompanied our staff to a training program on maturinity healthy to an internally displaced community on the outskirts of the city. This community had been forced by armed insurgence to flee their villages in the mountains of Afghanistan. What was unusual about this maturnity training is that it was for men and taught by male Operation Mercy staff. The idea being, that since men in Afghan society are key decsion makers in Afghan families, they need a better understanding of the pregnancy process and related health issues. The program is called Birth Life Safety Skills (BLISS). See https://mercy.se/afghanistan-bliss/ for more details. I watched amazed as I sat among 40 village men of different ages in a room wth no roof. The Opeation Mercy trainers did a fantastic job keeping their attention and answering difficult questions. I've attached a few pictures. One of the older men said, "If only I would have known this information earlier. I'm glad my sons can learn it."
I also visited several Self-Help Groups (SHG) in Kabul. Operation Mercy facilitates over 20,000 women in more than 1000 SHGs in and around Kabul. SHGs have the potential to transform Afghanistan from the inside. They are having a great impact by almost every way you can meassure impact. See https://mercy.se/afghanistan-shg/ for some cool SHG stories. I also enjoyed a visit to a WASH (Water Santitation & Hygene) project. It was a real treat.
You know, it is not only the projects that are important but it is the fact that Operation Mercy staff are on-the-ground being a supportive and encouraging presence to marginalized people who are largely forgotten and overlooked. There is something transformative and good by just standing together... against the aloneness. Thank you Opeation Mercy staff in Afghanistan. You make your nation proud.
Warmly,
Dr. Scott Breslin, CEO
WARNING: Javascript is currently disabled or is not available in your browser. GlobalGiving makes extensive use of Javascript and will not function properly with Javascript disabled.
Please enable Javascript
and refresh this page.