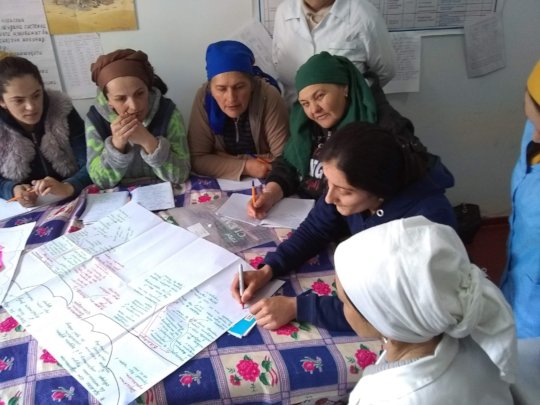 If anything, 2020 is a year of change, and even our office in the mountains of Central Asia has experienced change prior to a global pandemic. One of our long-term local staff has left and that has greatly challenged our capacity in the health project. We will experience even more changes in the upcoming months. But one thing a global pandemic does not change: People's needs. From our ancestors of hunter-gatherers to now, we always need food. People, now more aware than ever, need quality healthcare. You can challenge, but you cannot change, those needs, and that is where our projects come in, and where you, our donors and supporters come in. Thank you for being loyal supporters in a time of need that is global.
Though we have been preparing this year's work and getting the necessary government permissions, here are some news from the mountains of Central Asia.
It's about me! Health Project
There was a pretend sample story we had Amina read in front of the entire group. Amina was reading the story sentence by sentence. After each sentence she said "Oh, it's me! It's about me. It's about my mother-in-law!" She also said, "Who did you talk to who told you my story?" She was laughing very hard after each sentence and after each sentence kept saying, over and over, "It's me! It's about me." The whole group thought it was funny and enjoyed that Amina felt connected to the story.
After the lesson, during the goal-setting time, the facilitator asked her what was new for her. She said that the story (of a fictional character named Shamsia) was very real for her and it was about her own life. At the time when Amina was pregnant (both times as she was pregnant twice) she didn't know what was happening. Now that she heard this story and learned today of the symptoms of anemia and ways to prevent it, she is excited to share this information with the other people in her village. Amina felt enthusiastic to share this information with as many pregnant women as she could. Her sister is not yet married but hopes to be and Amina wants to share it with her. She also wants to share the information with her neighbors and her two sons who one day may get married.
What do you think? Greenhouse Project
We were in for a surprise when we came in our yearly visits to the government offices. We talked about our plans this year and then we were taken by surprise: We were asked by the city government for advice on building a government greenhouse. The city government doesn't want to order flowers for beautifying the parks from the capital city. They want to grow their own flowers and potentially save thousands of dollars. Though we didn't build the greenhouse we were able to offer advice on how to get the most from their greenhouse and strengthen our relationship with this key stakeholder.