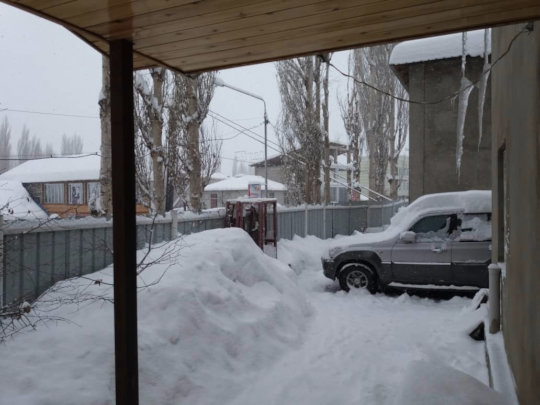 As the snow begins to pile up in the Pamirs (nearly 1m now) it is a good time to reflect on the last three months and how your donations have been put to work:
High Altitude Agriculture
Racing against the oncoming snow, the greenhouse project team have been very busy. Since the last report they have held training on vegetable preservation for the schools that we have supported in building greenhouses. This year our existing partners preserved more than 468 KG of vegetables between them. Next year we hope that the four schools we work with will be able to add to this total, providing vegetables to children throughout the winter.
They were also busy collecting the results of this year's harvest. In total, more that 3,200 KG of produce was harvested across the 19 greenhouses. Some of these greenhouses were only completed half way through the growing season, so the harvest of any vegetables at all is a huge triumph.
The greenhouse guys teamed up with the fruit project to carry out a pruning training for greenhouse partners and their neighbours who were interested. This came from a request by one of our partners who has used money earned from his greenhouse to plant an orchard.
Orchard Improvement and Fruit Processing
When they weren't helping out their friends on the greenhouse project, the fruit team spent the majority of their time meeting up with partners, who are juicing, in order to get a count of how much was made in 2018. They also discussed goals, what went well, and what could be improved.
They followed up with groups who have been pruning this year and/or have been experimenting with managing pests.
Community Health
The health team have completed a block of fourteen lessons with village women helping the health workers learn the techniques and topics needed for them to do this independently of Operation Mercy in the future. They also held one-off sessions for nurses they previously worked with on pre-eclampsia, a much misunderstood condition; and sessions for mother-in-laws, who are the gatekeepers of knowledge and change in the family, on issues they have raised as being important.
2019
There is much excitement over what 2019 holds. The health project, amongst many other things, is excited about the opportunities to train health workers in regional hospitals on the basic topics they have been covering in villages and instilling in them the value of health education. The High Altitude Agricultural project is excited about the new composting and soil care component they are planning, that could begin to revolutionise the way waste organic matter is dealt with from the bazaar in Khorog. The fruit project is excited about extending the benefits of juicing to new and more remote communities and seeing the 'Tree for Tree' programme increasing the number of fruit trees in the Pamirs.
We couldn't do any of this without your support!