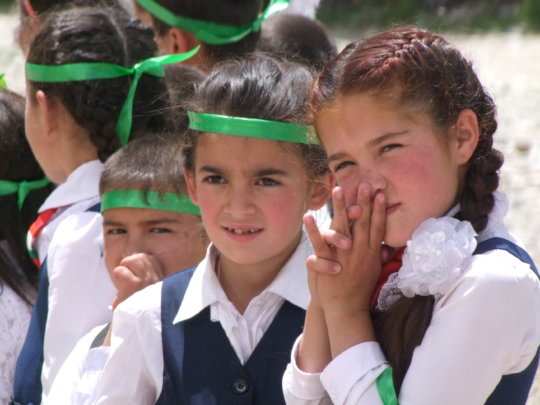 So much bad news! Everyday it seems we get bombarded with bad news on our televisions, on our phones, in the papers. Well Operation Mercy and our eight communities have been creating some good news that we would like to share with you.
High Altitude Agriculture
Our main effort since the last report is to complete two new greenhouses. These are an experimental design and could reduce the cost of our existing design by $800 making it much more affordable for people in the Pamir mountains to grow fresh vegetables.
We also had a visit from a veterinary doctor and community trainer from a partner organisation in Kyrgyzstan. Together we visited livestock owners and government veterinarians in the communities we work with. We spent time trying to understand the issues that the livestock and their owners are facing and working on some possible solutions. We hope that we will be able to carry out some specific training and support later in the year.
Finally, we have been monitoring the greenhouses we built last year with schools. Despite some teething problems, growing is well underway and it looks like it will be a good harvest.
Community Health
In the Pamirs, little new information or improved practice will get through to mothers and children unless the mother-in-law agrees. This last month we have been focusing on 16 mothers-in-law in one of our communities to help them understand the information we are sharing with their daughters-in-law. We have seen some real breakthrough where women, previously very suspicious of our work and approach, now want to attend the lessons themselves.
We helped four schools in villages we work with hold International Children's Day celebrations. This is normally widely celebrated in Tajikistan however, in the more remote schools, it is forgotten or written off as a waste of precious money. We have planned affordable and educational fun-days, together with the health workers in the village, to demonstrate that an affordable celebration of children is possible.
Orchard Improvement and Fruit Processing
In the past months we have been focusing on supporting our partners with all they need to make a success of the coming juicing season. Helping order new packaging from China and offering training on small business accounting and marketing has been key.