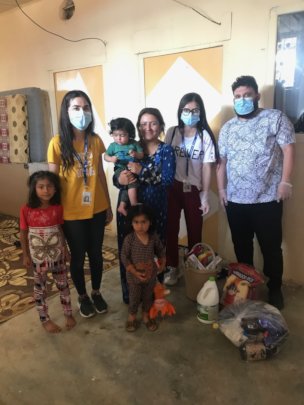 Like many international NGOs, we were told to temporarily halt our operations and projects in mid-March due to government restrictions. Every camp was closed to the public and all NGOs with only governmental aid were allowed to enter. Our office staff continued to work from home and secure funding for distributions for when we were allowed to enter once again. After gaining permission from the assistant governor of the region, we were able to visit and give food and hygiene products to 65 families spread out in seven camps last week!
These families are ones that we have been visiting weekly or twice weekly for the past several months or even years. We were able to put together a $50 packet of food staples and cleaning products for each family and then go to their houses to gift them with these essentials while maintaining a safe distance. Despite taking extra precautions and needing to wear masks and gloves throughout the hot days, our staff and clients were overjoyed to be reunited even for a few minutes! We asked how each client has been doing and we were able to hear their stories and encourage them and let them know they are not forgotten.
One young mother has been unable to leave her house as she has five children under the age of ten. Her husband had suffered an accident prior to this time and had only been able to do light daily work to provide for his family. After the restrictions were put in place due to COVID-19, he was unable to work at all because of this inability to find light work inside the camp. They were out of many necessary household and food items and were so thankful to receive the distribution gift and to see us once again.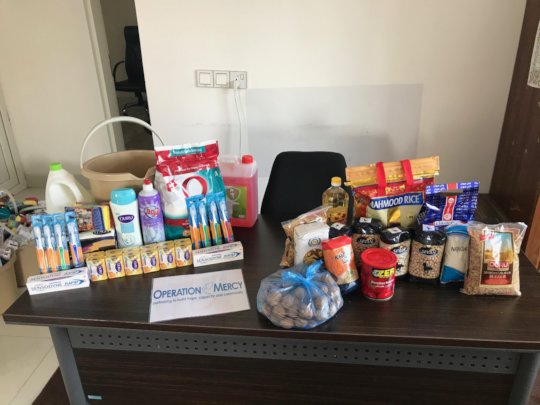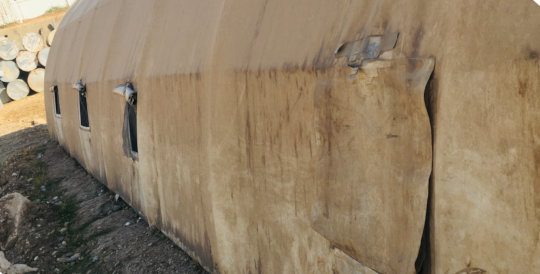 Stay encouraged! And stay safe!
The first thing that reached the Syrian refugges we work with regarding Covid-19 were the rumors. It is unquestionable, that rumours spread even faster than viruses. Many people were very frightened by the prospect of the pandemic reaching their homes and ready to believe even the strangest sounding advice and worst case scenarios.
Even as our region geared up to respond to the emerging threat, our staff took the chance to educate the women attending our class about Covid-19. Because of the trust that they have in our fitness leaders, the women were able to learn about the recommended hygiene measures, how to protect themselves and boost their immune systems by continuing to excercise and eat well. They also learned to not spend too much time watching the news and worrying, in order to safeguard their mental health.
Soon it became aparent that we would not be able to continue to meet for a season as the camp management requested the discontinuation of all kinds of meetings in the camp and the government proceeded to impose various curefews in the camps as well as the whole region.
While some of the restrictions have been eased seeing as there are next to no known cases in the governorate and camps that we work in, we are not yet able to relaunch meeting in groups to excercise due to existing restrictions.
We are so thankful that the women's fitness project continues to have an impact, even when the fitness classes are closed. Many of the women we have talked to our thankful for the community and relationships that have been formed as a result of the project. The participants in our excercise classes remain connected via social media. One of our fitness leaders said that before she started exercising she felt isolated and alone, but now because of the fitness classes, she is part of a strong vibrant community which has been a support to her during the COVID-19 crisis. The women continue to encourage each other as well as challenge one another to eat healthily and stay active. We are so thankful for the awesome women involved in this project and how they continue to support each other in difficult times.
Hi dear friends of Operation Mercy,
I wanted to give you a quick update on our COVID 19 response project.
I have fantastic news that we received a gift from an institutional donor outside of GlobalGiving so i could adjust down our budget here! But there are still enormous needs out there.
Several of our teams have started on small scale to help those most vulnerable with food and hygiene packages. For many of our project participants this crisis literally has robbed them of the daily bread and soap.
The children's book our team in Afghanistan put together is a great success, several other international organisations including UNOCHA are asking to use it and have posted about it on their facebook page :-) I am so excited that this tool is been used to inform children and adults about the virus and illness it causes.
The team is now working on book #2 which will give information on quarantine and how to live with it, why it is needed and how to support each other.
The needs out there in our communities are huge please share this project withy our friends and family.
Sincerely
Andrea Vogt
International director
Links:
WARNING: Javascript is currently disabled or is not available in your browser. GlobalGiving makes extensive use of Javascript and will not function properly with Javascript disabled.
Please enable Javascript
and refresh this page.