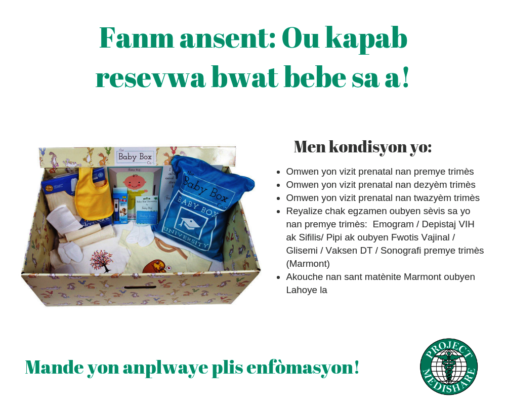 Over the last three months, the staff at Project Medishare's two maternity centers in rural Haiti have been working diligently to promote the baby box and newborn welcome kit among their patients. Posters and flyers have been placed in both maternity centers, creating visual images of the baby box and its contents, and outlining eligibility requirements. This awareness helps our team educate expecting moms on the importance of continued prenatal care, safe delivery services and postnatal care.
Additionally, we've finalized which items will be in the baby box, including washcloths, a swaddle blanket, baby wipes, thermometer and much more. The boxes and accompanying materials will be purchased in the fall and shipped to Haiti before the end of the year. The first boxes are expected to be distributed in January or February 2019.
Between our two maternity centers in Marmont and Lahoye, there are currently 152 expecting mothers eligible to receive a baby box. (A total of 80 baby boxes will be distributed as part of this pilot initiative.) The moms-to-be are excited about the possibility of receiving a baby box, which aside from providing newborn babies a safe place to sleep, will also include essential health and baby care items -- many of which are considered luxuries in a rural setting such as the Central Plateau.
One of the eligible mothers that we've had the opportunity to meet recently is Masius. Masius is 18 years old and expecting her first child. She's eight weeks into her first trimester and lives with her husband in Hinche, a nearby town about 20 minutes away by motor vehicle. She travels to our maternity center in Marmont via motorcycle taxi. Masius considers herself fortunate, because she was able to complete both primary school and her first year of high school. She works in "commerce", which is a common occupation for women in Haiti, selling food or small household items as a street vendor or from a small store.
Masius and her husband hope to welcome their first baby at the maternity center in Marmont. They know they have other delivery options in their community, but her husband has heard good things about the quality of care provided by Project Medishare's team of nurses and midwives. She would like to participate in the baby box program; we've encouraged her to come to all of her visits and complete required laboratory tests so that she will be eligible to receive the box for her new baby.
Thank you for your support of this program, which is helping to make childbirth and pregnancy safer for moms in rural Haiti. Because of you, expecting mom like Masius will welcome healthy babies into the world.