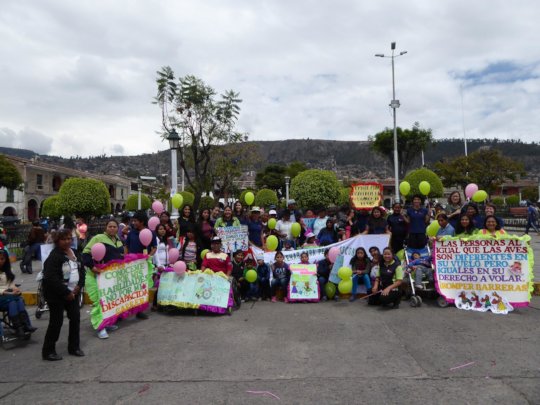 OCTUBRE: MES DE LAS PERSONAS CON DISCAPACIDAD
Si bien todavía esperamos cerrar el año y lograr el objetivo de recolectar donaciones a través de la página, nos sentimos aún más animados que nunca porque sabemos que todos los días brindamos más sonrisas a nuestros niños que reciben rehabilitación y ayudan a sus padres, ofreciendo les da más fuerza para continuar y fomentar el cuidado de sus hijos.
El pasado mes de octubre fue el Mes Nacional de las Personas con Discapacidady nosotros de la Asociación Wasi Esperanza con nuestros niños y sus padres participaron activamente en las celebraciones que se llevaron a cabo en diferentes áreas de nuestra ciudad, Ayacucho (Perú). Nuestro entusiasmo nos llevó a realizar actividades de sensibilización y la actividad más destacada fue el desfile en el plaza principal de la ciudad. Alrededor de 30 padres con sus hijos participaron en el desfile portando pancartas con frases de concientización sobre la igualdad y el respeto por los derechos de las personas con discapacidad. El objetivo principal de este desfile fue hacer que todos comprendieran que las personas con discapacidad no deberían ser consideradas como un objeto de el rechazo y sus derechos deben ser respetados como los de cualquier otra persona. Este propósito es muy ambicioso en un país como Perú, donde, en general,
Esta actividad finalizó con un baile simbólico en el que participaron 4 niños del Centro de Día Wasi Esperanza con 4 trabajadores de la asociación. La canción elegida para la presentación fue "Color Esperanza", autor Diego Torres, que fue muy emotivo para todos los participantes. Esto representa un resumen de lo que estamos haciendo todos los días, esforzándonos por brindar una atención de calidad a nuestros hijos para que puedan ser independientes en la sociedad.
Pocos días faltan para el final de este año y estamos planeando una fiesta final en la que daremos regalos, chocolate y pan dulce a cada uno de nuestros niños. Este fue un año de trabajo constante y queremos continuar trabajando arduamente en 2018 para que todos los niños de Wasi Esperanza puedan lograr sus objetivos.
Y deseando a la familia GlobalGiving una Feliz Navidad y un Feliz Año Nuevo, esos son los deseos más sinceros de la Asociación Wasi Esperanza.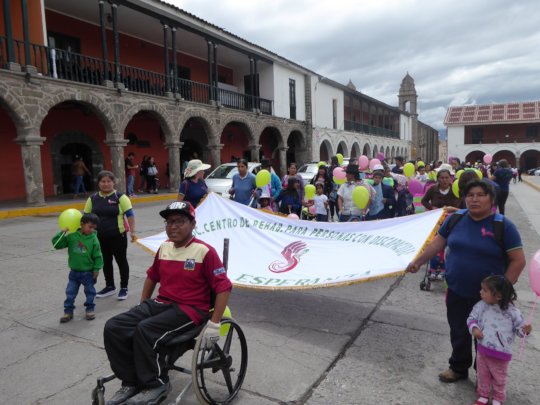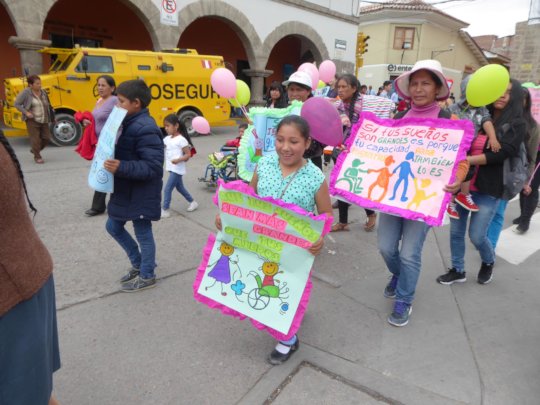 Links:
Dear Wasi Friends,
Our project is still active on the Global Giving Site and we hope to get all the needed funds to provide again the best services for our children next year. But we would like to already Thank you for the great affords that has been made!
Here we give you a little inside of the activities that we were able to realize because of your help. In August this year we organized a parent's workshop about their physically disabled child's rights. A topic very difficult to understand and make value because off the parent's ignorance and low self-esteem. So a group of 25 parents came and we started with dynamics and group plays so the parents get to know each other better, get motivated to tell their experiences and histories. As the session starts with laughs and loud voices during the games, the group gets more serious and often tears are presents when parents tell their story. It is good to release all the negative tensions to end in a big group hug and feel relieved to not be alone.
Those activities are really important to build a good parent child relation as are the other activities we had the previous months like a 'paseo' (a daytrip) with all parents and children. A group of 60 people enjoyed plays, volleyball games, swimming in the river and good food (always very important in Peru ;) ). Afterwards we often get big smiles and nice messages from parents and other volunteers on our facebook page:
Hello!! I am Paola. I was in Ayacucho with the ONG IBO Italia volunteering at the "Juan Andrés Vivanco Amorìn" Puericultorio. I brought at your center during my two week three kids and I had the chance to come to "a paseo" with all of you. I was a wonderful experience and I had the chance to see your impressive and important work that I kept in my heart.
We are still planning a lot of activities to come this year, the national day of persons with a disability is to come in October and of course the end of the year parties cannot be forgotten!
If you are in the neighborhood, come and visit the center and get to know our fantastic children in therapy. Otherwise we'll keep in touch by email, Facebook or the Global Giving page.
Thank you! The Wasi Esperanza team.
WARNING: Javascript is currently disabled or is not available in your browser. GlobalGiving makes extensive use of Javascript and will not function properly with Javascript disabled.
Please enable Javascript
and refresh this page.