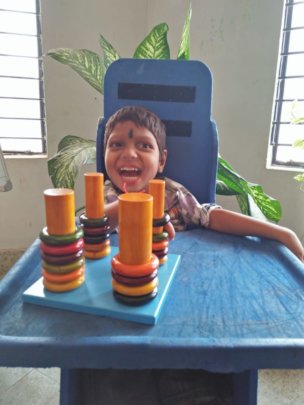 Dear donors,
Thank you for your continued support.
Because of your support, we have been able to make a difference to the lives of people with disabilities living in the villages of Bangalore rural district. We request you to take a few minutes to review the highlights of our work and feel a sense of fulfilment for having touched the lives of many persons with disability through your benevolent generosity.
Access to government entitlements
The wedding bells chimed for 35-year old Nagesh; afflicted by polio as a child, never in his wildest dreams did he think that marriage would be on the cards. Though he only had a slight limp while walking, society was quick to brand him a cripple.
Our work through the District Disability Rehabilitation Centre, enabled him to get a monthly pension, a free bus pass and join a government scheme wherein disabled persons are facilitated to find suitable partners. The government also gifts Rs. 50,000 as a token of appreciation to the bride or bridegroom, if they married a person with disability. Nagesh found his life partner and is happily married!
Working as a multi-purpose rehabilitation worker with the government, Nagesh now earns around Rs.8000 per month. Nagesh and his wife have saved the gift given by the government for future use.
Thank you for giving Nagesh a new life!
Your contributions played a significant role in this happy ending!
Along with Narayanaswamy, we also supported the following persons to receive government entitlements:
45-year old Ram received a disability identity card, a monthly pension, a walking stick and a motorised three-wheeler and is mobile again!
27-year old Muthu received a disability identity card, a free bus pass, crutches and moves about on his motorised three-wheeler.
8-year old Rakesh received a disability identity card, a free bus pass and scholarship for his studies.
Providing Assistive devices to children with disability
Your donations brought cheer and comfort to Seyeda and Hitesh and their parents.
10-year-old Aysha with Cerebral Palsy received a right ankle foot orthosis, cock-up splint that helped her move around comfortably. We could also facilitate a disability identity card that enabled her to receive a monthly pension.
8-year-old Hiren with cerebral palsy received below knee ankle foot orthosis, rollater, disability identity card and a monthly pension.
Supporting children with disability to receive therapy at our learning hub
Our Learning Hub for children with disability provided therapy to eight children overcome their challenges, enjoy their childhood, helps them lead independent lives.
Seven-year-old Yalini was one of them.
The special chair we provided lets her sit at the table and enjoy her game of stacking rings for the first time, which she loves playing. The new independence, motor control and ability to recognize a few things bring a new-found happiness and cheer to this little girl and gives her mother profound happiness.
"Yalini was diagnosed with cerebral palsy at a very young age. Unfortunately, without proper guidance and care, her condition deteriorated. "We had lost all hope till we came across Bangalore Baptist Hospital and their disability services in 2016" says Yalini's mother.
"With two years at the learning hub, alongside a loving and caring team encouraging my daughter every day, she made miraculous progress," says her mother. "When Yalini started her therapy, she could sit only with support. She had behavioral and sensory issues along with speech impairment and motor weakness," recalls her therapist.
With our trans-disciplinary team of a physiotherapist, special educator, speech therapist and clinical psychologist, Yalini's progress is commendable. Right now, she is learning to communicate. Although unable to speak, she can communicate with her expressive face," says the proud therapist.
Yalini's mother's contribution in her progress is praiseworthy as well. She has never missed bringing her daughter to the learning hub and religiously trains her with the help of our coaching. "Yalini loves talking to her dolls and listening to my stories. Most of all, there are no tantrums! Her drooling has reduced as well. Now she gestures when she wants something. Continual counselling has given me the confidence to train my child at home."
Along with Yalinii, we trained four-year-old Kamal, three-year-old Roja, four-year-old Hirini, three-year-old Shanker, three-year-old Ragu, five-year-old Latha and eight-year-old Deepa. These little ones are also progressing very well. Your support has transformed these lovable children. Our team at the learning hub is hopeful that Yalini can join her peers at regular school in the future.
Your continued support is the reason that children like Yalini can have a future! As we celebrate Yalini's transformation and a bright future, we also recognize that there are many more children and families who need your help. We are confident that with your continued support, we can reach out to many more Yalinis.
Thank you for believing in our cause. Your support is gratefully acknowledged and appreciated.
With gratitude,
Gift Norman
* All names have been changed to protect identity.