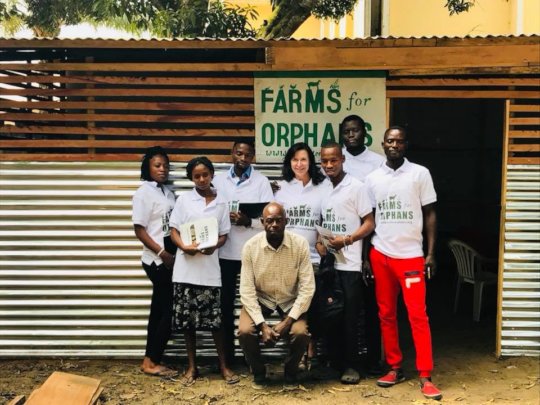 Dear Donors,
Thank you for supporting Farms for Orphans! We couldn't accomplish this work without you.
I recently returned from Kinshasa, Democratic Republic of the Congo, where our current activities are taking place, and I have many updates to share with you.
We recently completed the building of a new palm weevil farm on the land of one of our orphanage partners. A simple structure is a great option for orphanages that have a small outdoor space available. This insect farm, including shelving and complete with a water catchment system, cost about $1500 to build.
At the new farm we held our first youth farm training. As you know, one of our overriding goals is to train orphaned and other vulnerable youth how to farm, giving them marketable skills and a means to support themselves in adulthood. We provided five orphanage youth with palm weevil farm training and farming materials. We are looking forward to providing ongoing support to our youth farmers and working with them to grow their farm.
We are proud to introduce you to one of our youth farmers, Moussa!
Thirteen years ago, at 6 years of age, Moussa was found extremely malnourished and abandoned at a busy market in Kinshasa. He was brought to the orphanage medical clinic for treatment and has lived at the orphanage since. Moussa recently finished high school and is interested in pursuing a career in agribusiness. He dreams of owning his own farm as well as helping others to begin their own farming business.
Moussa was interested in learning how to farm palm weevil because, "I did not know that mpose [palm weevil larvae] could be farmed. I wanted to learn how to farm them because I enjoy eating mpose and I know I can sell them [for income]."
In his free time, Moussa enjoys reading business books. He loves rice and beans. And one day, he would like to have a family, including several adopted kids. Moussa is a kind, smart and motivated young man. We have no doubt that he will accomplish everything he sets out to do. We had so much fun getting to know him and our other youth farmers.
New partnerships in production
In addition to developing our youth training activities, we have recently began collaborating with two palm oil agribusinesses operating in the DRC. We are always working to improve our palm weevil farming program, streamlining production and improving outputs. This month we began a palm weevil diet trial to evaluate different palm weevil diets- sugar cane, palm tissue, palm kernel cake, cornmeal, rice bran, toutou (pulverized palm nuts), etc. The goal of this work is to identify the best diet to grow the beetles and larvae for improved production.
Further, we are excited to serve as a test site for a native stingless honeybee project run by the International Center for Insect Physiology and Ecology (icipe). The rearing of stingless honeybees may be another way for our orphanage partners to gain additional income by providing pollination services as well as through the sale of honey. We will be starting this project in the coming months and look forward to providing updates on this exciting work.
We have also recently partnered with the Leeds School of Business at the University of Colorado at Boulder. The Leeds School offers a course called "Business Solutions for the Developing World – Learning Through Service," which encourages students to experience first-hand the power of businesses, social enterprises and non-profits for making a social impact. A student team is working with FFO to complete business-related projects in service of our mission.
Local fare, global reach
Finally, for those of you that have yet to try insects (they really are delicious) here are two opportunities. The Welsh Rabbit Bistro & Cheese Shop in Fort Collins, Colorado (216 Pine St.) is serving a Farms for Orphans-inspired dish called "FFO Crickets". The dish includes golden wraps, peach and roasted onion "chow chow", roasted crickets, slaw, rhe sauce and balsamic cream. It's absolutely fantastic, and For every plate sold, $5 will be donated to FFO. Colorado friends, you must try this!
For you east-coasters, Brooklyn Bugs is hosting a "BugsGiving" Banquet Dinner the Thursday before Thanksgiving at the Brooklyn Kitchen (100 Frost Street, Brooklyn, NY). This meal will feature edible insects as the primary protein source and will be prepared by Chefs David George Gordon (aka "The Bug Chef") and Joseph Yoon. A portion of the proceeds from BugsGiving, in addition to proceeds from a Silent Auction, will come to FFO.
On behalf of the children, the orphanages, and all of us at Farms for Orphans, thank you again for your interest in our work. You, dear donors, made this happen!
Sincerely,
Dr. Amy Franklin
Founder & CEO
Farms for Orphans, Inc