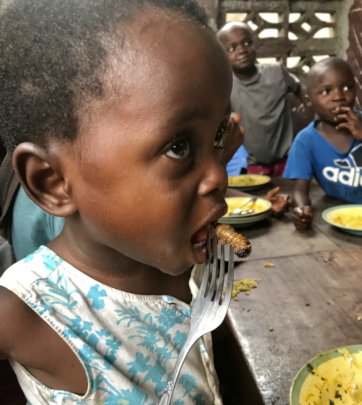 Dear Donors,
Thank you for supporting Farms for Orphans! We couldn't accomplish this work without you.
This past February I traveled to Kinshasa, Democratic Republic of Congo, where our current activities are taking place. I visited with all of the orphanage farms and distributed our insect farming biosecurity protocol. The protocol provides our farmers with information on how to keep their insect farm healthy and free of disease. In addition, the protocol provides farmers with training on proper personal hygiene. Our aim is to have healthy farmers and healthy, productive insect farms!
During this trip, I had the opportunity to enjoy a palm weevil dinner with one of our orphanage partners. It was exciting and heartwarming to see the children's happy faces as they enjoyed a nutritious, protein-packed meal of palm weevil larvae (PWL).
And speaking of nutrients, our partners at the University of Kinshasa recently completed a nutritional analysis of the PWL grown at our training farm. Did you know that a 100 g serving of these PWL (approximately 12 larvae) can meet, and in some cases exceed, the Recommended Daily Allowance (RDA) for children for certain nutrients? See attached Tables 1 and 2.
Further, a market analysis revealed that our farmers can sell their palm weevil larvae at market for prices above that of other proteins:
Table 3: Market value of available proteins in Kinshasa
Protein Market Value(USD/lb)
Palm weevil larvae $18.18
Beef (filet) $5.90
Goat $4.55
Pork $3.63
Chicken $1.68
You can see that PWLare relatively very expensive. Before Farms for Orphans' program, they were just another protein source that was out of reach for our orphanage partners.
For many orphanages in Kinshasa, space is extremely limited. There is no option to grow a garden or engage in small-scale animal husbandry. Insect farming is their only option for producing foodor generating incomethrough agriculture.
This past May, I had the privilege of presenting our insect farming work, including some of the nutrition and economic information,at the Insects to Feed the World international conference in Wuhan, China. We at Farms for Orphans recognize the potential applications of insects to address many world issues,including utilizing insects to up-cycle food waste into protein production while protecting the environment! We are excited about the future of insect agriculture and hope that our work has sparked your own interest in the promising field of entomophagy.
I am currently preparing to depart for Kinshasa on June 23. I have a packed itinerary, but I am most excited to visit with the orphanage farms and children.
On behalf of the children, the orphanages, and all of us at Farms for Orphans, thank you again for your interest in our work. You, dear donors, made this happen!
Sincerely,
Dr. Amy Franklin
Farms for Orphans, Inc. Founder and CEO
P.S. There are many ways in which you can give to Farms for Orphans. Consider telling your friends and family about our project – share our GlobalGiving link on your blogs or social networks, use the tell-a-friend feature on the project page to email your network, or just bring us up in conversation.
Attachments: