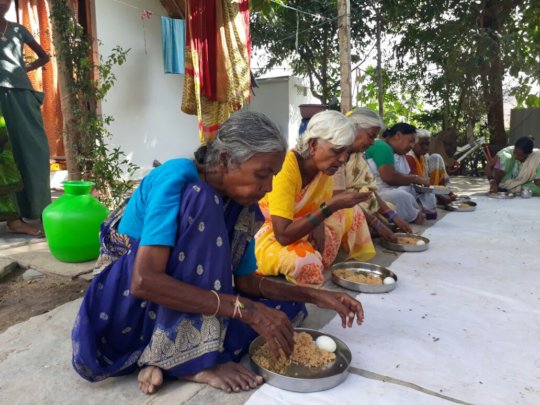 Respected Philonthropist,
Greetings from SERUDS Voluntary Organization.
We hope all is good at your side at this Pandemic Covid-19. We are thankful for supporting our charity to feed the hungry poor senior citizens by providing nutritious meal sponsorship.
Since 10years we have been feeding hungry elders who are neglected and homeless under the scheme of midday meal program. Sometime in the critical situation also we never stopped and we are donating hygienic hot meal for old age persons with your kindness and donations. We have been implementing by establishing the old age care center with hygienic kitchen to serve the quality lunch for the poor old age people.
Due to poverty and malnourishment, the homeless and other elderly people are struggling for the timely meals. The age group is 65 to 90 years, at this age, old age people are not working and some of them having ill-health suffering with TB, Cancer and they live in little hurts.
We always supplies needy essentials to the old age persons and 30 old age people are getting food sponsorship from seruds. We provide Meal Donation program for 30 elderly persons in urban slum of Budhavarapeta, near grave yard, Kurnool and donating lunch for old age people every day and the food includes steam cooked rice, leafy vegetable dhal, traditional tasty sambar, buttermilk, seasonal pickle, fresh fruits. This is most prestigious project working for the old age people by feeding them.
We celebrate all the festivals and elderly persons given blesses to all our supporters. Without your generosity it is very difficult for us to feed the neglected elders. The oldage persons health is improving a lot by having nutritious food at seruds midday meal program.
Thank you for making a donation to charity to feed the hungry poor old age persons through World's most famous nonprofit GlobalGiving Foundation.