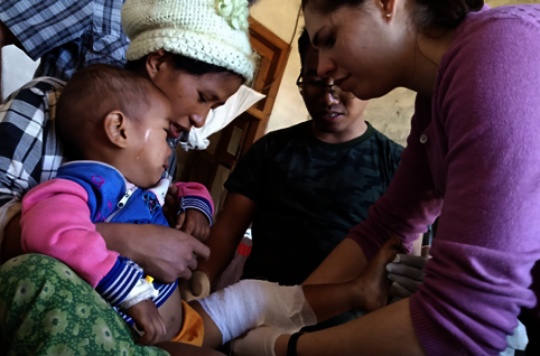 Last time we updated you on this project we were planning to launch our next training for Traditional Birth Attendants. Unfortunately, due to an escalation of fighting between the Myanmar Army and the Arakanese Army in the border regions, we had to postpone our plans until after the monsoon.
We were however, able to provide training to Area Coordinators and Community Health Workers, which focused on the management of childhood illness. This included training in emergency first aid, suturing and the management of burns.
Emma was one of the volunteer doctors from the UK, who ran the practical training, while also seeing patients at Hope Clinic in Lailenpi.
"I was struck by how grateful all the patients were, despite me seemingly doing very little. One elderly lady shook my hand so hard I thought it would fall off! She said she would remember my visit all her life. All I had done was look in her ears! I found it difficult to understand the depth of gratitude that the people showed, until someone explained that it was our presence that gave them hope. Hope that their little town was not forgotten by the rest of the world and that we cared enough to come all the way from the UK to see them, besides any medical skills we could offer. The people were so generous in their appreciation, and we left the clinic with vegetables, pineapples, bananas and a multitude of eggs!"
You can read more about Emma's trip in her blog post on our website.
The team had a tremendous time delivering the course based on the World Health Organisation's Integrated Management of Childhood Illnesses. Over the next few weeks, this course will be followed up by providing training for Health and Hope staff on care of the unwell newborn.

Three young women who will participate in this training, have been supported by Health and Hope through six years of study and will this month graduate from university after completing their nursing degrees. After the training, they will support the delivery of the maternal and neonatal programme, in addition to working in Hope Clinic and responding to emergencies through a newly established mobile medical service.
We are so grateful for your ongoing support which has enabled the development of this programme of work. Your partnership is making a difference to the lives of hundreds of mothers and their children in the remote regions of western Myanmar.