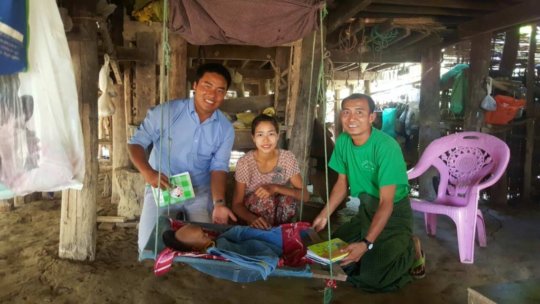 Thank you so much for your support towards our project: Transforming Maternal and Child Health in Myanmar.
We just wanted to write to share a short story that we received yesterday from Dr Sasa, Founder of Health and Hope's work. He is currently delivering training to Community Health Workers (CHWs) on the border of Chin and Rakhine state and met with a lady called Ma Thwin Hlaing who lives in a remote village. Pictured here with her first child, she told us about the day her daughter was born:
"My child's name is Sein and she is nine months old. The day she was born, the whole village was flooded. When I went into labour, the water was still rising. I remember it had reached my knee and all connection to other villages was cut off.
As this was my first pregnancy I was so scared. I thought that I and my child were going to die. But at that time, our CHW came out of nowhere, arriving at our house by boat. It was so dangerous I couldn't believe it he had come.
Still to this day, I have no idea how he found my home. He brought his boat right up to my bed where I was lying before helping deliver my child. That day he saved us both from dying.
Now I am just so happy. Look, my daughter is so healthy. It's unbelievable how we were saved."
Community Health Workers (CHWs) risk their lives in service of others and they couldn't do this without your support.
We've got two weeks to go in our fundraising campaign on Global Giving and are half-way there with raising the minimum amount of funds needed. If you would like to share our campaign with friends and family, do pass on the link to our web page: http://goto.gg/27216.
If you are on Facebook or Twitter, you can click here to share our page on social media.
Thank you so much for partnering with us,
Chris & Dr Sasa
Links: