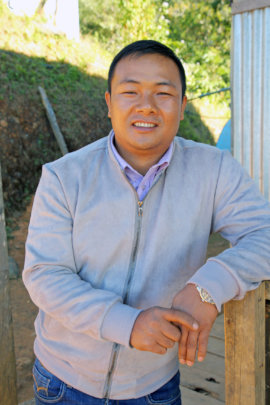 Many families in Chin State are faced with the overwhelming reality of premature death on a regular basis. Poverty, access to medicines and health care services, education and diet are all contributing factors. The devastating consequences of loss are all encompassing and affect every aspect of life.
The Freedom to Education Project (FEP) is an opportunity for young people to see cycles of poverty broken and to make a significant difference to the lives of their families and communities. Dr Shwehulian was an FEP student who studied medicine in the Philippines for seven years. He qualified as a medical doctor in 2017 before completing a post graduate internship year. The following testimony is Shwehulian's story of loss and a life transformed through hope and education:
My name is Shwehulian, I am the youngest of seven children. I now work as a medical doctor for Health & Hope. I grew up in a small village in Chin State. My father was a government trained public health worker and my mother took care of the children and ran the house.
In 2002 my father passed away after suffering an acute asthma attack. We had no access to life saving medication like salbutamol that could have saved him. Two years later, in 2004, one of my older brothers passed away during a mining accident as he tried to earn enough money to feed his family. He was taken to a local hospital, but with limited access to medications, equipment and staff, the hospital was ill-equipped to deal with patients presenting with significant trauma.
The following year, in 2005, my sister became pregnant with her fifth child. It was a normal pregnancy, but she passed away during childbirth. The baby survived and was given to my aunt to look after. That same year, five women from my sisters village died during childbirth.
I decided in that moment that I had to do something. How many more people needed to die for lack of doctors, medicines and adequate health care? I was prepared to do anything, maybe become a health care worker, maybe even a doctor. That was my dream! I decided to study English so that I could go somewhere to study. At 13 years old I spent my school holidays walking across the border into India to sell chickens and buy gasoline for my family. Whilst there, I found a little work cleaning windows or out on the farms and with that money I bought books to study. I had never owned anything in my life, I was so proud of my books.
During one journey I was kidnapped by the local army and for 2 weeks they trained me to become a soldier. I was afraid and cried a lot. Eventually they let me go, but not before they had taken all my chickens and eaten them.

In 2006 my brother suffered an acute asthma attack. The nearest hospital was a few days travel through the mountains and we had to cross a large river. As we crossed the river our boat capsized, and my brother drowned. I couldn't save him.

This was the turning point for me, I was angry, hurting and I knew I had to do something. I pushed myself through school to achieve the grades I needed to study at college. For years I faced failure after failure, lost faith in myself and wanted to give up. I could not have imagined how low I felt. Despite my situation, Dr Sasa was a constant support for me, he encouraged and challenged me to not give up on my studies.
I still cannot believe now that I am a qualified doctor! I am passionate about improving the health of my community and providing access to medicines and services I never had the privilege of having as I grew up.
This year Health & Hope are supporting 15 students through the FEP. Due to the COVID-19 pandemic, many schools and universities remain closed and online classes have been made available. Health & Hope staff continue to support the FEP students through their studies and are committed to ensuring the students are given every opportunity to reach their potential.
Your support is not only changing the lives of the individual students, but also having a wider-reaching impact on local communities through providing the skills and expertise needed to reach out and sustain our work amongst the most vulnerable in western Myanmar. Thank you!