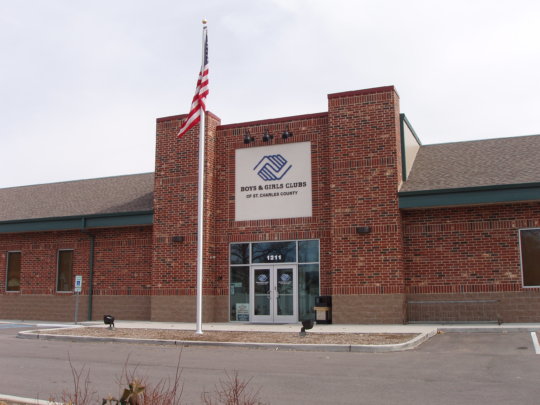 The Boys & Girls Clubs of St. Charles County has occupied the new Club located at 1211 Lindenwood Ave., St. Charles, MO since June 9, 2014 and it is as beautiful and grand as ever. We knew it would be great to move to a new facility but it was hard to leave the old Club and lots of memories behind. Memories are shared daily with folks that developed a true bond of lasting friendship during the past 50 years in waht was often referred to as "the old barn".. We are currently serving third generations families which tells us, it is and was a home for many.
Every program offered at the Boys & Girls Clubs is desinged to help its members realize academic success, live a healthy lifestyle and be a good citizen. All programs revert back to these core issues, all the way from being the super athletic to completing your homework for school the next day.
The funds raised to build the new facility did not meet the obligation, therefore it is still necessary to continue to chip away at the debt. We look forward to the day when there is a loan paper burning. Isn't that what you do when you retire a debt? That day will happen as we remain focused on debt retirement and helping the children of the community, especially those who need us the most.
ENCOURAGE LEARNING - That message is derived from one of the the Boys & Girls Clubs of St. Charles County Core Objectives - ACADEMIC SUCCESS
It is imperative that the Boys & Girls Clubs of St. Charles County remain focused on its Mission of helping those who need us the most. The majority of our members are considered to be "at risk". If it were not for the Club, many children would go home from school to an empty house, with no one to provide homework assistance thus being unprepared to return to school the next day. Many would be unsupervised until an adult would arrive home later in the evening when it is time to go to bed.
Daily, Boys & Girls Club members spend time in the Education Center with help to finalize their homework and be prepared for school the next day. Children with completed homework become eager to engage in classroom activities. They look forward to presenting their prepared homework resulting in better grades.
The Reading Center works with all children, ages 6 thru 18 with a special emphasis on members who are behind in their reading and comprehension level. Members work through the sessions with a volunteer or staff member. All reading sessions are one-on-one. Members attend an hourly session an average of two times per week. Those who complete the program have greater confidence in reading, perform better in school and have a higher reading and comprehension level with a desire to achieve academic success.
It is well documented that if a child falls behind in school, they lose interest in their academic success. They are more likely to drop out of school at an early age and not complete their education, thus experience an unstable income, job insecurity and unemployment. Their future is bleak and it is goal to help our boys and girls become gainfully employeed and have a rewarding future.
Summer Camp at the Boys & Girls Clubs of St. Charles County is drawing to a close. Between the two Boys & Girls Clubs in St. Charles County over 400 children have been enrolled in Summer Camp 2016. At the St. Charles location, we now have the luxury of being in an air-conditioned Club. It is now a Club that does not have a leaking roof, a Club that has program classrooms, a Club that has so much more to offer. As we move forward and open the doors for the After School Program, parents will begin to enroll their children with current memberships. Before Summer Camp ends we celebrate with our "Back to School Bash". During the Bash, children are given free hair cuts and bookbags equipped with their required school needs. The current programs will continue and new programs will be initiated.
However, we still must satisfy the debt on the new facility in St. Charles. Eliminating the current debt will free up additional revenue that is now being absorbed by the debt. We will not lose sight of the fact that our mission is to enable all young people, especially those who need us the most, to reach their full potential as productive, caring responsible citizens. The programs offered at the Boys & Girls Clubs are extremely important to the children. For many of our members, our programs keep them interested in school by helping them be prepared to participate in the classroom. It gives them the desire to graduate, get a good education and become gainfully employed as they reach adulthood. The Boys & Girls Clubs of St. Charles County is an important home for many. It is a place where they feel safe, enjoy favorable experiences, builds self-esteem and enjoy the caring staff.
WARNING: Javascript is currently disabled or is not available in your browser. GlobalGiving makes extensive use of Javascript and will not function properly with Javascript disabled.
Please enable Javascript
and refresh this page.