The Boys & Girls Clubs of St. Charles County continues to serve the children in the community. The Club's mission is to enable all young people, especially those who need us the most, to reach their full potential as productive, caring and responsible citizens. The Club in St. Charles, MO, was relocated to a new facility in June 2014 without being debt free. The challange of disposing of the outstanding balance remains constant. Donors are sought out by Board Members, Community Members and Staff. Contacting all avenues remain constant and extremely important.
The outstanding debt has not stood in the way of providing the valuable programs to the childred served at the Boys & Girls Clubs of St. Charles County. Membership fees of $25 per year per member has remained constant. For some families this may even be a problem, but no child is turned away. Programs are designed to keep pace with the ever changes in the community and society.
The need for the Boys & Girls Clubs of St. Charles County will never go away. It is extremely fortunate that the Club can provide a safe and secure environment where children can participate in age appropriate programs and acitivities. All programs at the Clubs are derived from the following: Education and Career Development, Character and Leadership Development, Health and Live Skills, Sports, Fitness and Recreation as well as the Arts. By participating in these program, children are encouraged to prepare for a bright and rewarding future. They are encouraged and help to keep pace or excel in their grades. They are taught the value of healthy living thru exercise and proper eating habits. They are taught how to avoid the pitfalls of the use of illegal drugs, alcohol and other issues that face our young boys and girls as they pass thru the years of becoming responsible adults. Over 60% of the children served by the Boys & Girls Cubs of St. Charles County live in or below the poverty level. It is important that the Club continues to do what is does to provide for the children. The Boys & Girls Cubs of St. Charles County will remain to be a home away from home for many children in the communuity.
The Boys & Girls Clubs of St. Charles County continues to take a very active roll in our children's education and the children's future. The Education Program at the Boys & Girls Club encourages all students to reach academic success. Children participate in Power Hour and the Reading Program which help prepare them for school the next day. Being prepared for school enables them to feel good about classroom participation. They are eager to show that they have completed homework. Recent research shows students continue to fall behind in education. Only 33% of 4th graders, 32% of 8th graders and 38% of 12th graders read at or above the proficient level. Over 60 percent of the children we serve are considered to be at- risk or low-income and fare even worse.
In Science, Technoloby, Engineering and Mathematics (STEM) classes, current graduating seniors rank 25th in math and 17th in schience amont industrial nations. Only 16% of graduates are proficient in math and are interested in STEM careers. Math and science skills are not just important for thousands of technology jobs that are being created but for many other employment positions.
These unsettling statistics are no exception to the children we serve. There is a large population of students that have been overlooked and are being left behind. Children of Club families in the low-income bracket score below the state average and well below other students in the community. Many teens from low-income families have limited or no access to technoloby with very little understanding on how math and science skills can apply to their life, careers and future. The Boys & Girls Clubs of St. Charles County is located in the community that has a higher population of low-income families, putting the Club in the position to address this problem and serve those who need us the most. These are exactly the students that the Clubs target.
The Boys & Girls Clubs of St. Charles County recognizes the fact that in order for children to remain interested in their academic success, they must be prepared to meet the daily homework requirements,be eager to graduate from school and progress to the next grade level. As a child suceeds in school, he or she will be interested to continue their education or pursue a trade that will allow them to plan for gainful employment and a promising future.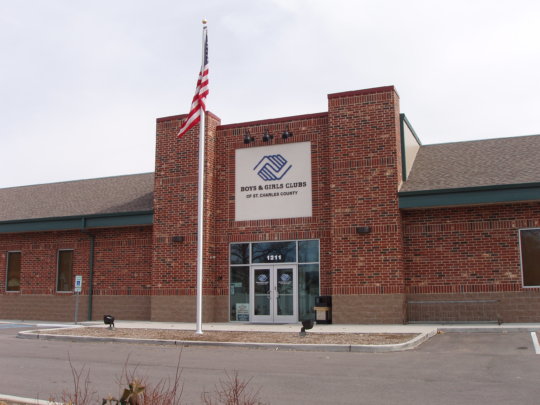 The Boys & Girls Clubs of St. Charles County has occupied the new Club located at 1211 Lindenwood Ave., St. Charles, MO since June 9, 2014 and it is as beautiful and grand as ever. We knew it would be great to move to a new facility but it was hard to leave the old Club and lots of memories behind. Memories are shared daily with folks that developed a true bond of lasting friendship during the past 50 years in waht was often referred to as "the old barn".. We are currently serving third generations families which tells us, it is and was a home for many.
Every program offered at the Boys & Girls Clubs is desinged to help its members realize academic success, live a healthy lifestyle and be a good citizen. All programs revert back to these core issues, all the way from being the super athletic to completing your homework for school the next day.
The funds raised to build the new facility did not meet the obligation, therefore it is still necessary to continue to chip away at the debt. We look forward to the day when there is a loan paper burning. Isn't that what you do when you retire a debt? That day will happen as we remain focused on debt retirement and helping the children of the community, especially those who need us the most.
WARNING: Javascript is currently disabled or is not available in your browser. GlobalGiving makes extensive use of Javascript and will not function properly with Javascript disabled.
Please enable Javascript
and refresh this page.