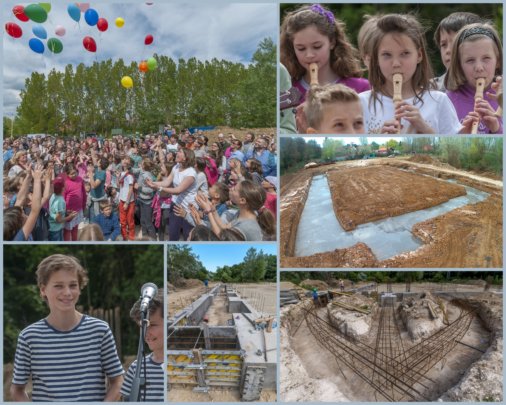 Dear supporters,
Thank you so much for the incredible start of our school gym building project!
We graduated in GlobalGiving! With your help we collected $7,000+ from more than 140+ donors during the one month accelerator period! We also have 4 recurring donors, who donate every month!
We are now a permanent member of the GlobalGiving community and can continue collecting funds for our long-needed school gym.
We have fantastic news! We started the construction in April 2017!
On 4 May, the foundation stone laying ceremony took place at the construction site. Our whole school participated at the event with numerous guests - donors, the mayor and other representatives of Solymár (our home town), the secretary general of the Hungarian Basketball Federation and the managing directors of all schools in Solymár. More than 500 people celebrated this incredible start.
It was so touching to hear our children, Márk, Boglárka and others reading their own poems they had written about the gym (more than 30 children wrote short poems - we placed all of them into a time capsule next to the foundation stone). It was moving to hear our class 4 singing and playing the song they had composed especially for this event. It was uplifting to listen to our basketball team acclaiming their slogan "Solymári sólymok!" (meaning "falcons of Solymár") above the foundation stone. It was encouraging to see those many colourful balloons flying high into the air at the end of the ceremony which represented our hopes and efforts.
Indeed we had a wonderful start!
And now it is time again for us adults to continue work and realize the dreams of our children.
The construction continues and we also continue collecting donations. Our next campaign will be before and on 12 July 2017, when all donations under $1,000 will be matched at +50% on GG Rewards Bonus Day.
Dear Supporters, please spread the word and help us further in our efforts!
With gratitude,
Szabolcs, Balázs, Karolina and the project team
PS: We have created a short video about the project. It is under review now, and will soon be released. Stay tuned!