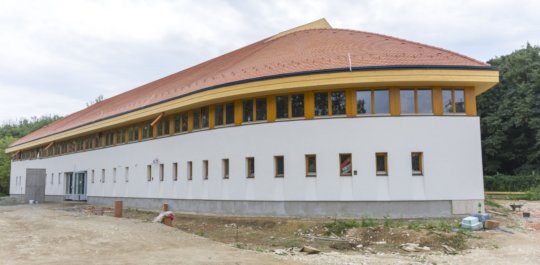 Dear Supporters,
(MAGYARUL A CSATOLMÁNYBAN)
I'm always filled with enthusiasm when I get the opportunity to write to you about the progress of our project. Even in difficult times, like now.
You are a supporter of our project. You have given "the extention of your will" - your money - to us, and you became part of our community. So you deserve to celebrate together with us, when the gym is completed.
However, till then we still need to make further efforts. Here is how ...
While most of us were on summer holiday, the construction of our school gym continued. The outside of the building is now almost ready.
I hope you also find it amazing - as I promised in the previous report :)
The work continues inside with engineering work (heating, drainage, ...) and coatings (plaster, tiles, sports floor, ...) and in the surroundings (roads, lawn, ...).
We had a financial crisis early August, however, thanks to the help of our school community we received further loans and we could continue the construction. It is so wonderful to see that in the middle of the summer holiday season some 29 families offered loans to help us out.
As we are getting closer to the end of the construction, also we are getting closer to the limits of our current budget - and with a boom in Hungarian construction industry where prices are raising month by month - and our position is getting more and more difficult.
It seems important now that we raise further funds, to be able to safely finish the construction.
So we need to get closer to our fundraising goal - posted on our GlobalGiving project site - as well.
There is a good opportunity now to increase the impact of your further support: on 12 September 2018, there will be a GlobalGiving Bonus Day, where donations will be matched. This time...
$50,000 will be distributed proportionally among participant projects
all new recurring donations will receive a 100% match
Furthermore, as a little surprise gift for your donation: I know that many of you live far away from Hungary and have no opportunity to visit and see the gym with your own eyes. So we will send you a personalised photo from the most beautiful parts of the building. And believe me, there are some.
If you donate at least $90, then you can even choose which part wou would like to see :)
Please be aware that the campaign timing is this:
Washington DC time zone: 00.00, Wednesday, 12 Sept 2018 - 09.00, Thursday, 13 Sept 2018
Western/Central European time zone: 06.00, Wednesday, 12 Sept 2018 - 15.00, Thursday, 13 Sept 2018
Children are really eager to start using the gym. Let's make their wish come true!
Thank you in advance for your kind support!
We would be even more grateful if you would recommend our project to a friend, family member, or colleague and call their attention to the above campaign. Be assured, they will also get their surprise gift :)
Kind regards,
Szabolcs Kátai and the SZWNA team
Attachments: