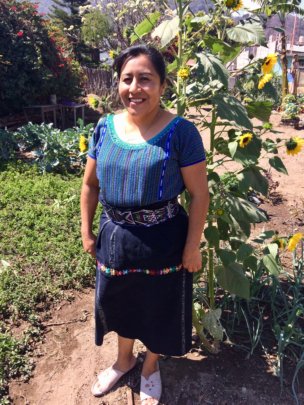 Since the launch of our GlobalGiving campaign before the new year, Rising Minds has welcomed a new member to our team, Hilda, pictured above, as our community health educator! For the past 15 years, Hilda has dedicated herself to working with women, children and families as a community health educator in the Lake Atitlan region of Guatemala.
Over the past few months Hilda has been working tirelessly developing the curriculum for our health trainings. Our health trainings have three main areas of focus: disease prevention, nutrition, and mental and physical health. Each training works to address specific objectives within these themes. All trainings are delivered via hands-on, interactive lessons with a D.I.Y element which is affordable and sustainable. We are currently working with a group of 20 students to finish the pilot stage of the trainings. We are super excited to be expanding the trainings to more schools within the next few weeks.
Hilda started working with Rising Minds over 5 years ago as a host mother for our cultural immersion and homestay programs. It is because of donors like you that we were able to hire her this year to work as our community health educator. When asked about her experience with Rising Minds Hilda responded with, "The work experience I have in Rising Minds is positive and innovative, the organization is a combination of changes that allow families, schools, and elderly people to have better practices, taking advantage of environmental resources without deteriorating them." The success of our in-school health training campaign is predicated on our relationships with community members like Hilda. In the field of development, there are many cases of trainings and workshops being administered by foreigners, instead of local community members, in a local language, who understand the local norm. Hilda speaks the local Mayan dialect, understands cultural norms, and has a rapport within the community to affect necessary change.
"With the situation that our country is in, the most vulnerable are the children, and for that reason, emphasizing the need for the improvement of health education for children is imperative," Hilda explains. For her, these health trainings are the best way to transmit knowledge regarding disease prevention, nutrition, and mental health.