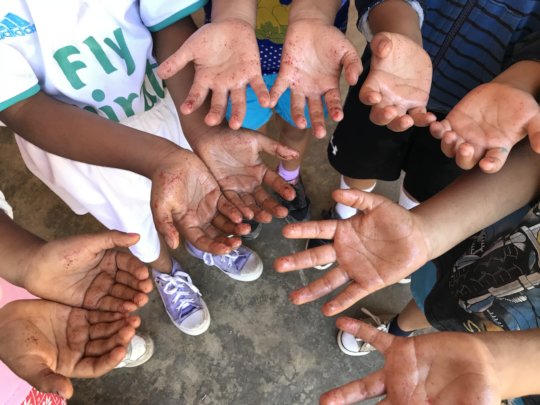 Since kicking-off the In-School Health Training Initiative in January, we have successfully completed our disease prevention unit and started our nutrition unit in April. Hilda, our Community Health Educator, reviewed curriculum covered last year about the three types of microbes (virus, bacteria, and fungus) and broadened the discussions on ways in which we can prevent the spread and propagation of germs. Using a plastic ball covered in baby oil and glitter, the students of CEIBI learned how easily germs can propagate and spread. Standing in line, they passed the ball back and forth. The glitter stayed on their hands, even after the ball left, simulating the spread of germs from their peers, toys, and other objects. After the simulation, the kids learned about the importance of washing their hands to prevent the spread of microbes.
Kate, a nutritionist and long-term volunteer for Rising Minds, worked tirelessly to help develop the curriculum for our 2018 nutrition unit. The first trainings focused on "la olla familiar," also known as the food pyramid or my plate. These diagrams represent nutritional guidelines for eating balanced and healthy meals. The oldest students of CEIBI are practicing organizing various foods into their perspective groups (grains, fruits, vegetables, meat, dairy, fats and sugars), all while learning how often each food group should be consumed. The upcoming trainings will focus on Vitamins A, B, and C, calcium, different proteins, and will be accompanied by activities like bingo and cooking classes.
In addition to these interactive health trainings, this initiative is complimented by CEIBI's in-school garden and Rising Minds' Educational Garden. The preschoolers are learning how to grow organic food packed with nutritional value and about various sustainable gardening techniques. Cabbage, broccoli, cauliflower, chard, lettuce, and spinach are among some of the seed varieties planted in the gardens.