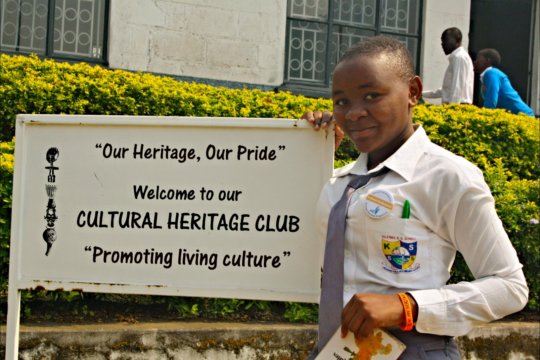 Harriet recently earned her 'Cultural Enthusiast' medal for a poem about cultural loss:
"I once spoke my mother language, where did it go? The one you are hearing now is foreign.
I once pounded our cassava flour using the mortar but machines have taken it away, my culture.
I once danced around the fire place after supper but where do l go these days? Mariana night club.
I once danced to the tune of the drum but Mr. Piano has erased my drum beat.
I once wore bark cloth that grandma made for me but the cloth am wearing now, I don't know who made it.
Where did I throw them? Will I find the torn pieces?
I must go and search for it, where did it go, my beautiful and lovely culture?
Join me to search for my culture"
Lovely, but the yearning for a cultural heritage eroded by technology and globalisation is particularly poignant.
Heritage Clubs in Uganda and Zimbabwe
Harriet is being helped in her search for meaning and relevance by attending a Heritage Club at the Kilembe Secondary School in Western Uganda, one of over 100 organised by our partner, the Cross-Cultural Foundation of Uganda.
Meanwhile in Zimbabwe, our project is also beginning to bear fruit. Edone from the National Trust of Zimbabwe met a group of school principals last week to talk about the importance of heritage education and the different ways children can get involved and embrace their heritage.
Edone says "I spoke for ten minutes, emphasizing the rich bounty of heritage resources in the Nyanga area, and suggesting that the programme should begin in the home with the children researching their family heritage. It then spreads to the study of the wide variety of heritage and cultural subjects found in this district, and follows with national heritage, as suggested in the CCFU Tool Kit." All very exciting!
Encouraging African Youth to Embrace their Heritage
Our project aims to educate and enthuse over 300 young people like Harriet in Sierra Leone, Uganda and Zimbabwe so that they can preserve vital African heritage for future generations to enjoy and learn from.
As a donor to our project, you understand the value of keeping heritage alive and safe for future generations. You also know that the best way to do that is to help young people understand its significance and relevance today, even if that means telling sometimes hard-to-tell stories or preserving the physical reminders of slavery and conflict.
Thank you so much for helping us encourage young people like Harriet into becoming the heritage defenders, educators, activists and practitioners of the future - just like you!
Please spread the word!
And as we begin the final week of the challenge, we really need your support and help again if we are to reach the target!
Please share the project link with friends and colleagues, asking them to donate too - or post it on your facebook page? We can't do this without your support!
Thank you for your continued support and effort.