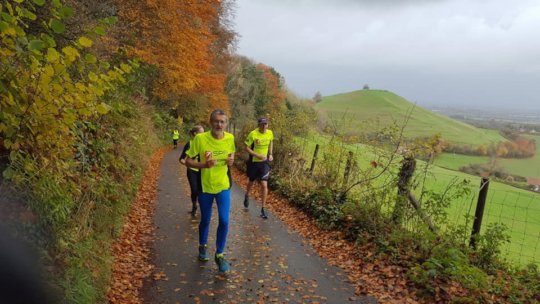 The setting of the Run
The run took place in my home town in the Netherlands, a 10 km route through Winschoten, the Mills Town of the North of the Netherlands. My family came in good numbers to cheer me on.
By midday several more family members had congregated hoping to see me complete the 50 km. They assembled in front of my former parental home on the 'stoep' of the ageing former neighbours across the road who still are dear friends of the Jager tribe.
Promotion of my charities
My family had set up a table where passers-by could get some information about the two charities I was supporting with the run, The Ruach Fundacion in Nicaragua and the Hidden Needs Trust organization in England.
My run
This run wasnot a 'walk, or even a jog, in the park', and that somehow makes me feel that I more nearly earned the sponsorship money I received through different channels!
Already in the beginning my legs felt stiff. And my heart rate was much higher than normal for an early stage of a run and the controlled speed I was running at.
I linked up with a running partner in the second third of the 50km. We chatted as we ran at a steady good speed. My heart rate miraculously dropped to less than normal levels. With about 15 km left I felt that the going was getting harder and that I needed to take in water at every opportunity.
Taking in a brotherly advice how to handle the last 3 kilometers to the finish, which came after 4 hours and 47 minutes. I was the oldest participant and came 42nd in a field of about 120 runners!
Interested in the route and statistical details of my Run? Click on this link::
https://www.strava.com/activities/2708393688
After the finish
As we had arranged, I met up again with my running partner at the finish. She flew in the last part of the 50 km, and finished in an astonishing 4 hours 33 minutes. Having both enjoyed the experience very much, we agreed we both would try to appear at the start of the 2020 edition of the Run van Winschoten.
My next and 4th Ruach Run: 12 Sep 2020
For me personally it was particularly pleasing that many of my nieces and nephews enjoyed the day and mentioned that they would want to sign up for a family 10x 10 km relay team in the 2020 edition of the Run van Winschoten when this Run will also be the official World Championships 100 km.
Basically this means that these youngsters have given me my 'running orders'. So I plan to sign up again for the Winschoten Run in 2020 and will make that my target for my 4th Ruach Run. I'll have to find a way to raise the bar for 2020 a little higher again.
Sponsoring?
I'm very grateful for many of you who have already sponsored me. I will acknowledge the gift in due course.

As many of you know, I have pledged to match a gift to Ruach in full with a gift to the Hidden Needs Trust from 'my-labour-for-charities' fund. I will keep this offer open till Saturday 12 October when I will be participating in the 52 km off-road 'Run with No Witty Name' in the beautiful area around Tisbury near Salisbury in Somerset, with three SPFit running club team mates Jo Morrissey, Roz Brooker and Emma Connelly. This will be a day out rather than a race and hopefully a different but equally enjoyable event.

Donations can still be made via the Ruach Foundation page on the Global Giving website https://www.globalgiving.org/projects/fundacionruach
Links: