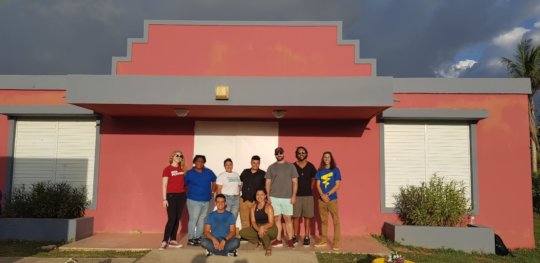 On behalf of Libraries Without Borders, thank you for your generous donation during our "End of Year Giving Campaign." We are incredibly grateful for your continued support of our work, and are excited to share a few updates on our programs to date.
The Wash and Learn Initiative: Building a National Movement
By working with public libraries, local nonprofits and laundromat owners, LWB successfully launched the Wash and Learn Initiative (WALI) in eight states and the District of Columbia last year. While each WALI site reflected the needs and interests of the local communities served, by and large, this program provided community members with access to tools and training opportunities to promote learning and workforce development.
In 2019, LWB has had the honor of welcoming Chelsea Clinton to our Chicago Wash and Learn site, which was featured in the Chicago Tribune, the Chicago Sun Times, and Chalkbeat. You can also watch a video of Chelsea's visit (link below). Beyond local news outlets, the Wash and Learn Initiative was also featured in PBS NewsHour (link below).
In the months to come, LWB is gearing up to launch three new WALI sites in Baltimore, San Antonio and Oakland. We are especially excited for our programs in San Antonio and Oakland, which mark the organization's first foray into the West!
The Ideas Box in Puerto Rico: Promoting Resilience and Preparing for the Future
In the aftermath of Hurricane Maria, LWB launched a pilot program that brought the Ideas Box in Loiza and La Perla, two communities on the north coast of Puerto Rico that were devastated by the storm. Beyond damaging its physical infrastructure, the hurricane also compounded the island's financial woes and led to the closure of nearly 300 public schools. In an effort to fill this gap, LWB used the Ideas Box to create a space where children and adults from both communities could access educational programming and cultural activities. We hosted everything from virtual reality workshops to arduino tutorials to STEM activities. Community members were also encouraged to create their own programming, which resulted in dynamic bomba y plena workshops and drum-making tutorials.
Later this summer, LWB is excited to announce that we will expand the pilot into a full-year program in Loiza! Through the generous support of donors like you—and with additional funding from Sony—we will offer educational and cultural activities, train local residents on how to serve as facilitators, create a pop-up makerspace complete with 3D printers and laser cutters, and organize a hackathon at the University of Puerto Rico. This all-day, sprint-like, collaborative event will bring kids from Loiza to San Juan, where they will work with university students to tackle what they see as the most pressing issues in their communities. Through this initiative, LWB and its partners will also develop blueprints for the world's first hurricane resistant, solar-powered, internet-capable pop-up library and makerspace, which will be manufactured entirely in Puerto Rico.
The Legal Literacy Initiative: Transforming Lives through Legal Information
In 2018, LWB strengthened its programming for the Legal Literacy Initiative, which brings legal information to those who need it most in the places where they regularly gather, such as churches, schools and community centers. In partnership with legal aid organizations, local libraries and nonprofits, LWB curated, contextualized and simplified legal resources according to the explicit needs and concerns of the communities we served.
Going forward, we will continue to leverage the support of our Legal Literacy Advisory Board, which is comprised of leading practitioners, preeminent legal scholars, and thought leaders in the field. With their oversight, we will continue to expand our programming and build out our "legal library" to ensure that the content we share with community members is relevant to their circumstances and reliably reflects current laws and policies. At present, there are Legal Literacy programs in the Washington DC area, Minneapolis/St. Paul, Providence, and other cities across the United States.
Libraries Without Borders is Growing!
The LWB team has experienced a number of staffing changes over the past year. In January, we saw the departure of Allister Chang, who stepped down from his role as Executive Director in order to join the Berkman Klein Center for Internet and Society at Harvard University as well as the LWB National Board. We also welcomed three new employees to the team, Carly Wais and Azure Grimes in our Baltimore office, and most recently, Mabel Diaz, who is overseeing the development of the Wash and Learn program in San Antonio. Later this year, we anticipate bringing on a National Program Manager and Project Coordinator for the Wash and Learn Initiative in Oakland.
For the latest information on what we're up to, follow us on Twitter, Instagram and Facebook! You can also check out our new website (link below).
And as always, you can reach us at kat@librarieswithoutborders.us and adam@librarieswithoutborders.us with any questions or feedback.
Our very best,
Kat Trujillo
Deputy Director
Libraries Without Borders
Links: