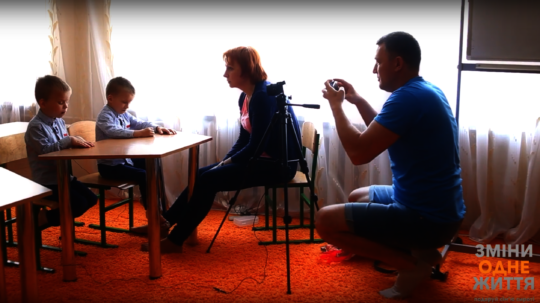 DEAR OUR DONORS!
I am very pleased to provide you with another report for the previous quarter. This report was a little late, as there were a lot of video productions and trips to orphanages. Our team, literally, fell down). We know that one more video profile of an orphan child is equal to one more chance for a happy life!
I am very grateful to each of you that everyone were helping the project "Help Orphans from Eastern Ukraine Find a Family" and orphans all the time to have a chance to find a family. Many of those for whom we produced a videoprofile are in new families already. Over the past 3 months we have made 60 videoprofiles of children. Over 15 orphanages were visited that time!
As for today, $10,000 out of the $10,000 required for videoproducing of 200 orphans is collected. All of the 200 videoprofiles are madden. Many of the children are in families and other videoprofiles are visible for potential parents on our website. Thank you to everyone! We have collected $3020 for a short period of time from the last report.
So, we ask the GlobalGiving to raise the Goal of Project to $20,000 that required for videoproducing of 400 orphans from orphanages. We will show them on our website www.changeonelife.ua/en, where are more than 2,200 videoprofiles of orphans all over Ukraine and will place on the television.
Every day for such children is of great importance, the older they become, the less likely they are to be adopted. I know that chance of a child will increase at times thanks to only $50, which we spend on the production of 1 videoprofile.
YOU CAN SEE HOW WE VISIT ORPHANS AND MAKE VIDEOPROFILES: https://youtu.be/2KHfGbyvW14
INFORMATION
Our Charity Fund have created common database of videoprofiles of all orphans who is living in orphanages over Ukraine. Till the time more than 3,500 children have got their videoprofiles: boys and girls, small and teenagers. Every week we visit new orphanages in the Western regions of Ukraine and make new videos about the children.
Let's help orphan children and parents meet each other!
Links: