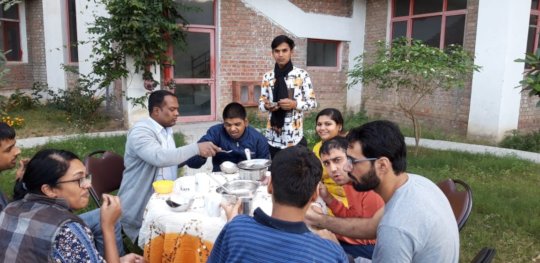 Action for Autism(AFA) is Twenty Five!!
Each one of you has contributed to the success of AFA!
Here we bring to you the highlights of the celebrations that has marked twenty five years of our journey.We are exited to share some of the events that have been celebrated throughout the year.
Highlights 2019
Big Bazar's Quiet Hour- Since April 2019 Big Bazar of Future Group organises inclusive and conducive shopping for individuals on the spectrum.AFA has been instrumental in connecting Big Bazar with various autism organisations around India.
Success at Work Place-We would like to congratulate AM for completing five years with Lemon Tree Hotel.Congratulations to AA for being the proud bread winner of his family.
Gathered Leaves-We organised a staging of a play directed by the prominent theatre personality Faisal Alkazi of Ruchika theatre.Everyone enjoyed the dynamics that play in a family with the father and son on the spectrum.
Views from Planet Autism- 47 artists from India and south east asia showcased and earned from their art works at the nineth annual exebition by the people on sepectrum.
Update on Advocacy-AFA's team participated in national and international research and advocacy events and brain stormings.These included WHO's technical meeting,Geneva,INSAR annual meet,Canada,APAC Singapore and numerous meetings of the DePWD, NCERT amongst others.
Trainings at AFA-AFA trained over 1000 individuals by workshops in India and south east asia.In last September we received training from Dr Brenda Smith Myles, an autism expert from the US.
Get ...Set... Go... AFA's Annual Sports Meet was organised for the children, adolescents and adults of AFA.
Coming back to Ananda, we are happy to share that the residents have found their home, a space where individuals with autism live and work with dignity and respect.Some lovely photos are attached here.
Thank you so much for your valuable contributions!
We wish you a happy and prosperous 2020!