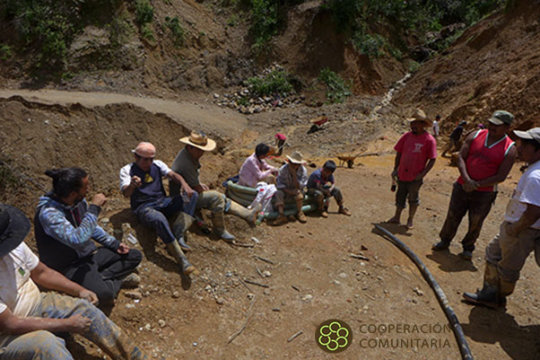 Cooperación Comunitaria México
Rebuilding the habitat in communities of Guerrero
In the last months, we have been working on a training program for reducing the vulnerability in four communities of the Mountain of Guerrero, on one hand, through the analysis of landslide risk; on the other, through the increase of construction capabilities on reinforced adobe construction technique.
The group which we are working with represents the local key stakeholders of the municipality, such as the team of Municipality´s civil protection, the communal agrarian office in charge for planning the sustainable use of natural goods; "Pastoral Social" from the church, builders interested on be trained as a community promoters, students from the local University, teachers for indigenous education and participants from four communities.
In August, we started our first workshop with the community Ojo de Agua, La Ciénega, La Lucerna Alta y La Lucerna Baja Communities. It consists in analyzing landslide risk by combining community knowledge with detailed geological studies; maps of risk-zones, for the relocation of risk-prone homes and crops. Next week we are starting with workshops to increase inhabitants community resilience. The geologist and architects from Cooperación Comunitaria organized a four days workshop, which will have another module in September.
By that time, we will be working with the communities increasing their capabilities for building the first Indigenous Education Center on reinforced adobe that will work as a training hands-on workshop on reinforced-adobe construction techniques.
This Center will be built in a collaborative way, which function also as constructive housing models. Training more local actors and promoter will aloud to count on labor to rebuild near 3,900 houses that are still damaged.
We are working hard on increase the resilience, reducing the vulnerability of communities living in the Mountain of Guerrero.
We deeply thank you for being part of this effort.
Best regards
From Cooperación Comunitaria team!