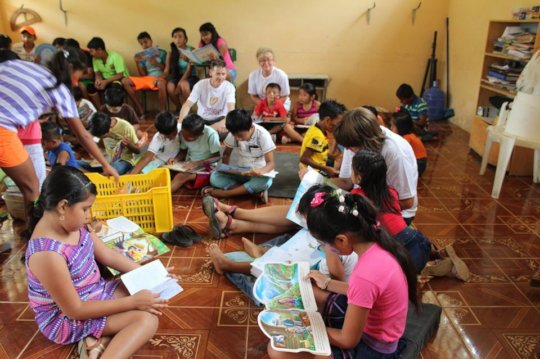 Hello everyone!
First at all,thanks very much for reading us! it looks a year ago we took our first journey to the north for working with children in rural communities of Manabi.
During September, Mobile Libraries participed to the Annual Conference of Good Dees Day in Lima, Peru, we have the change to share our giving story, it was a wonderful oportunity to explain to an audience why we keep moving forward with Mobile Libraries. Visiting Peru was like stepping back three years!
In order to give you some context, in March 2016, before of the earthquake in Ecuador, some friends had the initiative of doing good in Platanales Village by the Good Deeds Day movement, in a rural school, we started cleanning, organizing and painting the school, and at the end, we did a grant opening event with reading activities, magic tricks, face painting and puppets. After, where the earthquake happened, we did not what to do at the begining, but later we thought about our Good Deeds Day, and it was like connecting accros actions and places where we joining to do good for others. It was an unexpected and unpredictable way to help!
Also, we drove to the north with boxes of books, and the puppets play "La peor señora del mundo" ("The worst woman in the world"), children from San Vicente, Canoa and Tabucila laughed with this evil and grumpy lady, our volunteer Annabel from France did a pretty good role as the moody lady, and the moan of the dove by Margo from Belgium was a soft and funny murmuring sound. Also, the kids read the book "Rana de tres ojos" ("Three Eyed Frog") by Olga de Dios, and an icebreaker activity leading by Margo, who knows well how to play educational and fun games!
In October, we visited Canoa, San Vicente and Chone, this time with the puppets play "A ritmo endiablado de bomba" ("Devilish drum beat"), by Marco Chamorro and Alice Bossut, together with the Ecuadorian legends of creatures, spirits and magical people from our flocklore, children get a scary time at haunting stories from Mobile Libraries.
In November in first part, we took part in theTraditional Games Festival, it was a morning and evening full of games from different cultures, and for different ages, whole families from San Vicente joinned this important annual event organized by Ludoteca Nueva Esperanza, one of our Mobile Libraries partners.
We hope you will continue reading some about more adventures on the road!