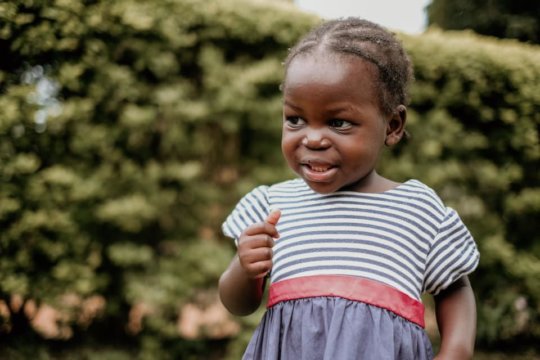 In a garden in Jinja, Uganda, a town nestled near the shores of Lake Victoria, one would expect to see life growing. But this life was not the type rooted in the ground: a woman stumbled upon an abandoned 8-month-old baby, an event that would change the path of her life forever.
The woman rescued the infant and brought her to Amani Baby Cottage, an organization that provides care for orphaned and abandoned children, with a mission to find permanent homes for all of the kids it serves.
The 8-month-old, Grace, had called Amani Baby Cottage home since she was found in fall 2018 - until this month when the woman who found her was finally able to welcome her as family.
Our wonderful friends shared this update about Grace and her new family:
"We have great news, Amani Family! Our sweet baby Grace is now being fostered to be adopted!!!
The wonderful woman you see holding her was actually the one who found her after she was sadly abandoned last fall. These wonderful people have been working towards becoming licensed foster parents since then and, just a few days ago, Gracie was able to join her forever family.
Though there is now a place at Amani that feels a little empty with Gracie gone, we could not be more ecstatic for her! We will still keep up with Grace on a regular basis and have sponsors continue to support her new family and our social workers during this transition for the next few years. Please join us in praying for Grace, her new family, and everyone at Amani during this sweet transition.
Adoption into a forever family is one human act that in part emulates what He has done for us. Well done Mama and Papa Grace...we are here to support you through the foster to adopt process."
Grace's story is not uncommon. We serve abandoned babies around the world, and your donations ensure we can empower these individuals to live clean, prosperous and healthy lives.
Thanks for helping Grace and other babies just like her.
~ Stephanie
About Our Global Efforts: Through a trusted network of community-based partners Jake's Diapers provides predominantly reusable options to solving hygiene needs worldwide. We have a growing list of diaper drops in countries outside the United States.
Make your impact today! A donation of $16 solves diaper need for moms and babies like the ones in our story