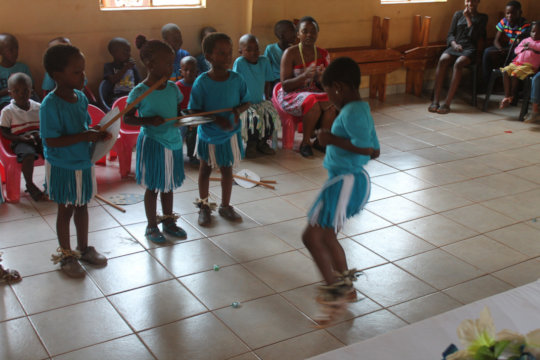 2017 has passed on so quickly with plenty of positive stories to share. With Christmas very close it is time to reflect on the year and to let our generous donors via GlobalGiving know what an amazing year we had due to their amazing support. The school year has drawn to an end and thanks to your contributions we were able to hold successful graduations for more than 100 children, who move on to primary school in the New Year (2018). With your support we were able to rent gowns for each child, some of whom suffer great hardship, evidenced by visible malnutrition and their threadbare clothes. This allowed all the children feel special and closed the divide between them.
This event was well supported by parents and grandparents as well as the community at large. Parents were all smiles as they clapped and whistled for their babies when they received their certificates with pride. We were also able to buy food to treat everyone who attended to a decent meal, which for some was their first and last meal for the day. The children also received a few practical items for the next stage of their lives, a toothbrush, bowl, mug and a little treat (lollipop) which they were very excited to get as they don't often get treats.
We have also taken steps to help most children in need where funds allow. A recent case is of a 9 year old child with a debilitating and potentially life threating bowel complication who needed an operation to be able to eat normally, Funds for this operation have been made available and we look forward to seeing her back to a naturally healthy state for a little girl.
As I write this post we acknowledge World Aids Day (1st Dec), remembering the poignant work of caring for many of the children at the NCP orphaned by AIDS. This is a time to reflect but also to continue our important work on the ground, THANKS to GlobalGiving donors for their continued support, it really does make a difference.
Beyond our work with children we have extended our outreach to Small Medium Enterprise groups, making polish, soft dolls and other crafts. In order to make our project a success especially the dolly project, fabrics and materials were purchased to enable that these unique dolls be shipped to Norway. Your support also went as far as setting up a vegetable garden, building a chicken pan and buying a water tank for a family of 5 children who have a father that has multidrug resistant tuberculosis (MDR-TB) with this he lost his hearing and was bedridden for long and has just started to learn to walk again.
We are extremely grateful to all for this support and we would like to wish everyone a prosperous Christmas and blessed New Year.
THANK YOU!!