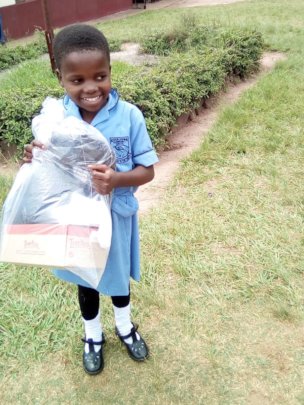 REVAMPING OF OUR NCPS
We have once again started a New Year and look forward to doing great, exciting things with our children at the NCPS and community at large that we work with. As we continue to do what we do best, support orphaned and vulnerable children at each of our 7 NCPS in eZulwini and surrounding. I am proud to mention that we have started building an additional NCP and hopefully by 2021 we will have a total of 8 NCPS. That means supporting even more less fortunate children.
We strive to give children, aged between 3-6-year-old quality early childhood education and two nutritious meals a day. To add up to the meals, we supply the children with a delicious and highly nutritious food supplement called "e-PaP". The children really enjoy this supplement, as each time they rush back for seconds.
Starting 2019 we have revamped eZulwini NCP classroom into different learning areas, namely the art area, this is where the children will be able to express their feelings and be creative as every child is an artist in the art area. This area is most important in that the children learn and develop in all domains (Language, Literacy, Math, Science, and Motor Skills). We also have the Science area which is the busiest as the children can observe, experiment, create, construct, classify, compare and most importantly ask endless questions which should not be ignored by the teacher. In the dramatic area the children play dress up, although we have limited clothing for this area, this has helped the children a lot as they have learnt to be patient and taking turns. This area also allows the children to pretend to be anyone and do anything, through this their level of thinking grows. With all of these changes we have implemented, we are trying to prepare the child holistically to enable these children that we support to get ready for primary school and the outside world as every child is "special" to us. On the first day of school, the children were so excited as they walked into their classroom racing to the door making sure they become the first to enter this beautiful classroom, I smiled with affection as I could see through their beaming eyes that they love their new space. They were filled with joy as they ran and jumped up and down with excitement into their classroom. Repainted in a blue lagoon colour, and the walls hang of beautiful colourful educational charts and a few toys in the box for the children to share.
NOTHING FOR US WITHOUT US!
This is the spirit used here at All Out Africa as we try our utmost best to involve the local volunteer teachers that we work with as they are not qualified early childhood educators. This will make the teachers feel like they own the projects that we implement at our NCPS. It is also encouraging to see how determined and eager to learn these 7 teachers are. Soon we will be focusing on our outside area at our NCPS so the children get to have a variety of things to play with outside as currently, they are stuck with only a swing and a jungle gym. Many thanks to everyone for your tireless efforts in making us realize our dreams that is putting smiles on the less fortunate children in eSwatini. We are looking forward to a great year ahead of us as we work towards vision 2022 in upgrading our NCPS to become of standardized preschools. We are also excited to have Peggy a volunteer from Canada. As we have introduced an assessment form for each child at the NCP in order for us to monitor the children's progress health-wise, educational and development of motor skills. A child is assessed from when they are first enrolled at the NCP and Peggy is responsible to do that with the help of the teacher.
A MILESTONE CELEBRATION!
Looking back I am amazed at how time flies, It is exactly a year since Nomthandazo had her operation for a severe and rare condition. "A Guardian Angel Story" posted here on global giving. Brave Nomthandazo went through it all and made it. I just thought it would be selfish of me not to celebrate her recovery with the GG family as it would not be possible without you. Noteworthy is that the doctors mentioned that they will be documenting Nomthandazo's case for other practitioners to refer to in the event they come across a similar case as it is a rare case that should not be undermined and this will be done for one reason to save other lives. From the conversation I had with the doctor I learnt that documentation of illness and treatment procedures is a process they practice with all patients daily. Since the operation was done, Nomthandazo has stopped having agonizing stomach pains and she is able to eat anything as her stomach is able to digest, she is now free to live her life like other children her age and be at school full time.