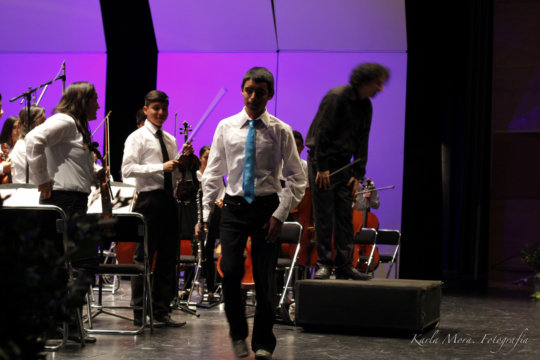 ESPAÑOL
Demetrio es un chico de 16 años que toca el oboe desde hace tres años en la Fundación. Él, como tantos otros chicos y chicas entraron en el arranque de este gran proyecto, ofreciendo su entusiasmo, cariño y dedicación a este sueño que está transformando vidas a través de la música.
Siendo su esfuerzo y entusiasmo rasgos característicos, poco a poco fue desarrollando habilidades musicales y sociales muy positivas para él, su familia y sus compañeros de la orquesta. A pesar de tener dificultades económicas fuertes, Demetrio es muy constante, perseverante y entregado. Caracterizándolo el amor por su instrumento, su sección de maderas, la orquesta y la Fundación.
El pasado 27 de noviembre de 2016, realizamos un concierto a beneficio, teniendo la participación de la Orquesta Sinfónica Juvenil Comunitaria Música para la Vida, con niños y niñas de Ciudad Valles, Charcas, Matehuala y Villa de Reyes. En total 100 niños participaron en este Magno concierto en un gran teatro para 1300 personas.
El repertorio fue amplio, tocando más de 12 piezas musicales, entre ellas la Escena 1 de la suite del Lago de los Cisnes de P. Tchaikovsky. Demetrio le comentó al director musical que su sueño era tocar el solo de esta escena, sin embargo la elección grupal de que otra alumna tocara el solo, frustró, por el momento, su sueño.
Un día antes del concierto, en uno de los ensayos, la chica decidió no tocar el solo, ofreciéndoselo a Demetrio. La emoción y felicidad de Demetrio se vio reflejada al instante, y en el primer ensayo su solo sonó hermoso.
El día del concierto, la emoción, alegría y expectativa estaba por los cielos. Los niños y niñas gozando su momento. En la quinta pieza, Armando -el director musical- levanta la batuta y comienzan a sonar los violines, dando pie al oboe de mostrar su voz. Demetrio cautivó. La sala se pone de pie, Armando manda llamar a Demetrio al frente, felicitándolo públicamente. Demetrio no cabe de la felicidad y la emoción y lágrimas brotan por su cara....
Con momentos como este, es cuando decimos que estamos Cambiando al Mundo 1 Músico a la Vez.
Gracias por tu apoyo.
ENGLISH
Demetrio is a sixteen years old boy who plays the oboe since 2013 in the Foundation. He, like so many other children were at the project start-up, giving their enthusiasm, love and dedication to this dream that is changing lives through music.
Demetrio showed, since the beginning, a lot of effort and enthusiasm at playing the oboe, little by little he started to develop different social and musical skills for his family, the orchestra and himself. Despite some economic difficulties, Demetrio is one of the most committed students of the Foundation. He reflected that his love to music, his instrument and the Foundation, were characteristic features of himself.
The 27th of November of 2016, we realized a benefit concert, in which the "Musica para la Vida Symphony Orchestra" performed a lovely concert with more than 13 pieces. The orchestra had 100 kids of Villa de Reyes, Charcas, Ciudad Valles and Matehuala. They played for 1300 people in a big theatre of San Luis Potosí.
Among the repertoire, it was the 1st scene of the Swan Lake ballet of P. Tchaikovsky, in which a solo oboe is well known. Demetrio commented to the musical director that his dream was playing that solo, but the orchestra decided to select another girl to play it. Demetrio got a little sad, but he still showed a lot of love to the decision of all.
One day before the concert, the girl who was elected, decided not to play that piece, offering the solo to Demetrio. At the first rehearsal, his solo sounded beautiful.
The concert day, the emotion and happiness were through the roof; all the children were enjoying their moment. At the 5th piece, Armando –the musical director- lifted his baton and the violins started to sound, following the solo oboe. Demetrio captivated the hole orchestra and the theatre. Armando called Demetrio to the front, congratulating and hugging him.
Demetrio was full of emotion and happiness, tears in his eyes showed us that with moments like these, we are really Changing the World through Music.
Thank to all our supporters.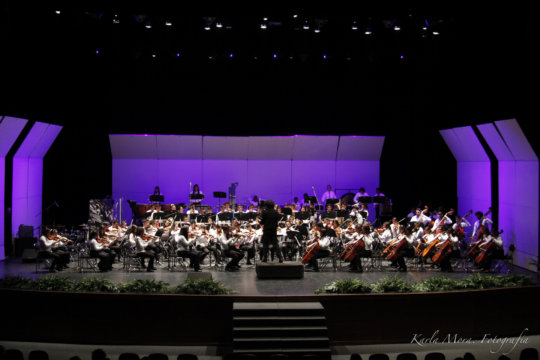 Links: