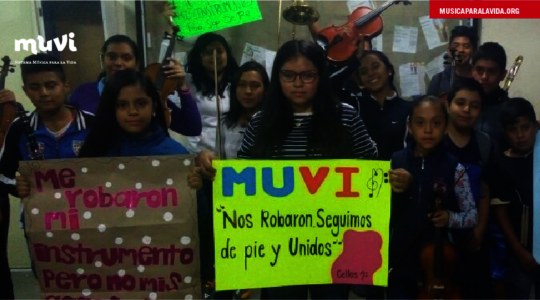 ESPAÑOL
La Pila es una delegación de la capital de San Luis Potosí que se encuentra en la periferia. Es considerada una zona con alto índice de violencia y narcotráfico. Debido a estas características, decidimos instalarnos ahí hace un año y medio con una Orquesta Sinfónica Juvenil para fortalecer el tejido social y ofrecer a los niños, niñas y adolescentes una oportunidad de recreación, desarrollo comunitario y aprendizaje musical. Las clases son gratuitas y los instrumentos son prestados a los y las participantes.
Desde un inicio, la respuesta de la comunidad fue inmediata, teniendo alrededor de 130 niños, niñas y adolescentes acudiendo de lunes a viernes de 4 a 8 de la tarde. La Orquesta cada día se consolidaba y generaba un impacto social en la comunidad, siendo un referente musical y un espacio seguro para La PIla.
El 6 de diciembre de 2017, amanecimos con una noticia muy triste. Nos robaron 50 instrumentos y artículos musicales de la bodega en donde se guardaban los instrumentos de esta Orquesta. Nos sorprendió mucho la noticia a todos, tanto a La Pila, como a los demás núcleos del Sistema MUVI (Ciudad Valles, Matehuala, Charcas, Venado, Matehuala y Villa de Reyes).
En un principio, la noticia generó una gran aflicción en todos los que formamos parte de esta gran familia. Pero las personas comenzaron a solidarizarse inmediatamente y a tratar de apoyar desde la trinchera en donde estaban:
Los distintos núcleos se solidarizaron, ofreciendo instrumentos que no se encontraban en uso para que los y las participantes de La Pila no se quedaran sin sus clases y sin tocar.
Instituciones y organizaciones se sumaron en colectas para gestionar dinero para comprar nuevos instrumentos.
Los y las estudiantes de la Orquesta de la Pila, realizaron diferentes carteles para mostrar su fortaleza y ganas de seguir luchando por una comunidad mejor.
Hoy, consideramos que a partir de este hecho, podemos constatar que el proyecto MUVI verdaderamente genera empatía, solidaridad, trabajo en equipo y cohesión comunitaria.
A partir de este difícil hecho, podemos decir que hoy, más que nunca, La Pila está fortalecida y dispuesta a cambiar al mundo, un músico a la vez.
ENGLISH
La Pila is a delegation from the capital of San Luis Potosí located on the outskirts. It is considered an area with a high rate of violence and drug trafficking.
To strengthen the social fabric and offer children and adolescents an opportunity for recreation, community development, and musical learning we decided to place a Youth Symphony Orchestra in this area. The school provides classes for free with instruments supplied by us.
From the beginning of the project, we had a positive and immediate response from the community. The program has 130 children and adolescents that attend classes from Monday to Friday from 4 to 8 in the afternoon. Every day, the Orchestra has consolidated and generated a social impact in the community, being a musical reference and a safe space for La Pila.
On December 6, 2017, we woke up with unfortunate news; 50 instruments and musical items were stolen from the winery where the instruments of this Orchestra are kept. The report was shocking to everyone, both to La Pila and to the other nuclei of the MUVI System (Ciudad Valles, Matehuala, Charcas, Venado, Matehuala and Villa de Reyes).
At first, the news generated great affliction in all of us who are part of this great family. But people began to show solidarity immediately and to give support in several ways:
The different nuclei showed sympathy, offering instruments that were not in use so that the participants of La Pila would not be left without their classes and without touching.
Institutions and organizations joined in collections to manage money to buy new instruments.
The students of the Orchestra of the Pila, made different posters to show their strength and desire to continue fighting for a better community.
All the support and help received after the news, has proven that the MUVI project has generated empathy, solidarity, teamwork and community cohesion. Today, we can say that La Pila is a stronger community and it is ready to change the world, one musician at a time.