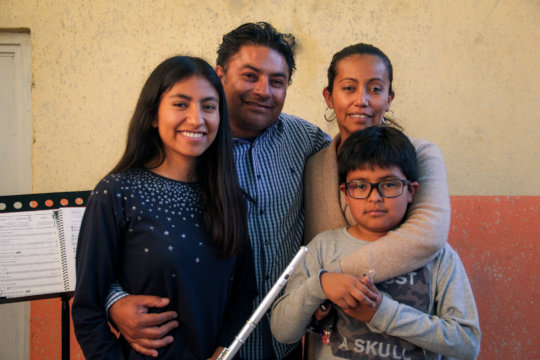 Español
Cada septiembre los símbolos patrios adquieren mayor relevancia que en otros meses. Y es que una de las mayores fiestas patrias de México, se celebra justo en este mes.
Debido a estas celebraciones, contenidas y diferentes debido a la pandemia, en MUVI nos preguntamos qué hacemos por nuestro país, por buscar un espacio en donde existe mayor igualdad, compromiso, empatía y comunidad.
Habiendo más de 125 millones de personas viviendo en este gran país, nos cuestionamos si hay un impacto en el proyecto MUVI, donde hemos trabajado, a lo largo de 7 años, con 2000 niños, niñas y adolescentes, aproximadamente.
¿Qué impacto puede tener un proyecto que ha trabajado con el 0.0016% de la población total del país?
Probablemente al leer esta pregunta, nos parezca insignificante el trabajo que hemos realizado, sin embargo, cavando más profundo en la realidad, podemos encontrar rayos luminosos que iluminan cuevas de gran oscuridad.
En espacios donde la delincuencia organizada, las drogadicciones, situaciones de violencia, pandillerismo y otras problemáticas sociales están muy presentes, es realmente urgente intervenciones de paz, de comunidad y de habilidades que ayuden a atravesar la vida personal de la mejor manera posible para todos los que nos rodean.
De eso se trata la labor de la Fundación Música para la Vida AC, no es trabajar únicamente con 2000 niños, niñas y jóvenes, ya que ese trabajo se multiplica, impacta a sus familiares, amigos, escuela, personas con quien se desarrollan. La comunidad se ve involucrada profundamente.
El Sistema MUVI es un semillero, donde algún día, se convertira en un gran bosque que impactará más y más vidas. Y una factor muy importante para esta gran propagación de semillas, es la música, lenguaje universal que toca fibras, que permanece, que se adapta, que cambia y que transforma vidas.
La Fundación Música para la Vida AC, nos consideramos muy "patrióticos" porque todo el trabajo que realizamos diariamente, es para que tengamos un país mejor, más libre, justo y empático.
¡Que viva México!
English
Each September the national symbols acquire greater relevance than in other months. And it is because one of the biggest national holidays in Mexico, is celebrated just this month. During this celebrations, different because the pandemic, at MUVI we ask ourselves what we do for our country, what we are doing to seek a space where there is greater equality, commitment, empathy and community.
With more than 125 million people living in this country, we wonder if there is an impact that the MUVI project generates. We have worked, over the course of 7 years, with approximately 2,000 children and adolescents.
What impact can a project have that work with 0.0016% of the country's total population? Probably, reading this question, the work we have done seems insignificant, however, digging deeper into reality, we can find luminous rays that illuminate caves of great darkness.
In spaces where organized crime, drug addiction, situations of violence, gang members and other social problems are present, it is urgent to create interventions of peace, social community and skills that help to go through personal life in the best possible way for all around us.
That is what the work of the Music for Life AC Foundation is about, it is not working only with 2000 boys, girls and young people, because work multiplies, impact their families, friends, school, and people with whom they develop. The community is deeply involved.
The MUVI System is a hotbed, where one day, it will become a great forest that will impact more and more lives. And a very important factor for this great propagation of seeds is music, a universal language that touches fibers, that remains, that adapts, that changes and transforms lives. In Music for Life AC Foundation, we consider ourselves very "patriotic" because all the work we do daily is so that we have a better, freer, fair and empathetic country.
Hurray Mexico!