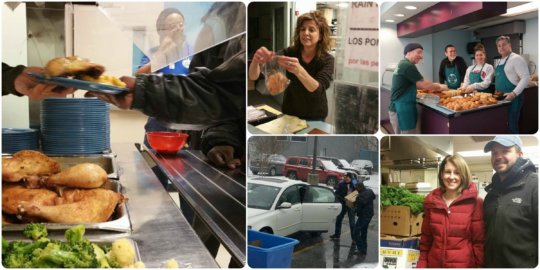 The heart of any organization is a human heart--the hearts of the people who are served, the hearts of volunteers, the hearts of staff, and absolutely the hearts of the people who give - the donors. We thank you for choosing our project to feed people experiencing homelessness in Silver Spring, MD.
We thank YOU for being the heart of Shepherd's Table!
Thank you for your gift, which allows us to serve the most vulnerable in the community, people experiencing poverty and homelessness. In 2015, we ensured that those who were hungry were provided a nutritious, delicious meal: 45,805 dinner meals and 8,845 brunch meals. This year, we served 5,012 meals in the month of January alone.
Our meal guests also access many other basic services provided at Shepherd's Table. In 2015, we served 1,769 unduplicated persons in our resource center, of whom 767 persons were new to services at Shepherd's Table. We filled 454 prescriptions, and 248 people received eye exams last year. There were 7,612 instances of shopping by folks who visited us, and 4,003 tokens were given to folks to get transportation to social services, shelter and other vital appointments.
We thank you for being a partner in our mission and for making a vital difference in people's lives!
Our folks are so grateful to be at Shepherd's Table. You can well imagine their gratitude during the historic blizzard earlier this year. While they knew that they could depend on us to be here, they did not take us, or our services for granted. I talked with many of our dinner and brunch guests throughout the blizzard. They all expressed immense gratitude for staff and for the volunteers, many of whom walked for over a mile to get to us! We help our clients and meal guests to not only survive but to move forward with their lives, even in the midst of winter!
I hope that you enjoy these last weeks of winter. Please keep the folks the we serve close to your heart. No matter the season, we are here for them every day and every night of the year, and YOUR generosity makes this possible.
With much gratitude for you,
Jacki Coyle
Executive Director
Shepherd's Table