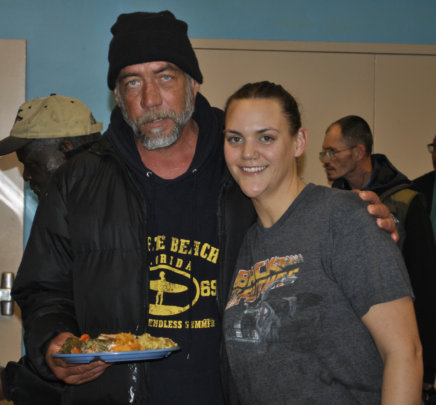 The last few weeks have served as an important reminder of why Shepherd's Table continues to be a valuable resource in the Silver Spring community. One of our clients, who has been receiving services for 14 years, moved into his own apartment in Takoma Park, and he continues to visit us to report his progress.
This was a major achievement for him, and a very emotional moment to receive house keys that belong to him. He has struggled for so many years since he became homeless after a divorce, suffering from addiction, and experiencing multiple near-death experiences. Our staff and volunteers have supported him throughout, providing a source for meals, clothing, showers, assistance with medication, a place to get his mail, and also support for battling his addictions and having the drive to get his life back on track. The transition has not been easy, and never is for someone who has lived on the streets for 14 years, and always had to worry about where they were going to sleep that night. Tony is now focusing on getting a job, and building a life away from the streets, and the family he developed there.
He said to me, the day after he spent his first night in his own bed, "Don't let anybody tell you it cannot be done. If you do what you are told at Progress Place, it will happen. There are good people here, and they will help you, but you have to do the right things. Even you can get your keys."
Thanks to all of you, we are open everyday, working together to meet needs and change lives, one individual at a time. In 2016, Jan-April, we have served 15,287 dinner meals, and 3,117 brunch meals. Each meal is an opportunity to provide for someone who is hungry, looking for other services, and get encouragement from his/her peers to keep hope alive.
Thank you for your continued support of Shepherd's Table's mission, and the lives of folks we serve every day!